Graham Reid | | 1 min read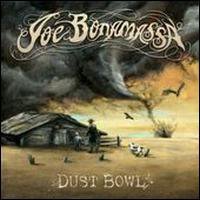 There are some extraordinary guitar talents -- Roy Buchanan comes to mind immediately -- whose gift just seems to go right past an audience you know would appreciate it, if they just shifted their attention in that direction.
Bonamassa -- who also has lungs like leather and can write terrific blues rock songs also -- is another.
He's been playing for more than 20 years (he's only 34, you do the maths, BB King hailed him when he was just 12) and he grew up on Stevie Ray Vaughan, Eric Clapton and Hendrix. He was given tuition by Danny Gatton (which added tough twang and some jazz sensibilities to his sound) and cites the great Rory Galllagher as a profound influence.
Which all adds up to someone deserving wider recognition.
This album -- with John Hiatt guesting on a boogie woogie-influenced and rocking version of Tennessee Plates, Vince Gill singing on the country rock of Sweet Rowena (and playing guitar in two other places) and Black Sabbath/Black Country Communion's Glenn Hughes on Free's Heartbreaker -- is a thunderously exciting starting point if you missed the previous Black Rock, which entered the Billboard blues charts at number one last year.
This is blues-rock which is uncompromisingly edgy, where his guitar adopts many different voices (from a whisper to a scream we might say) and is always throwing up surprises: after the tough Meaning of the Blues he picks up the Greek instruments bazouki and baglama to introduce the country-flavoured hard rock of Black Lung Heartache about the grim working life of underground miners ("I've seen many men, they become hard as nails, carrying hammers like keys to a jail").
And you don't find too many blues-rock albums with a song title like The Last Matador of Bayonne (with a lonely Miles Davis/Spanish-like trumpet from Tony Cedras) . . . and You Better Watch Yourself peels huge riffs from Jimmy Page for a 12-bar rocker.
You also know Bonamassa's songs are not just vehicles for his exemplary and evocative guitar playing which can be romantic in the manner of Gary Moore (Last Matador, No Love on the Street), have a country edge (The Whale That Swallowed Jonah which could be Dire Straits on heat), lift from BB King (Sweet Rowena) or deliver moody soundscapes (the slow churning title track).
As with Roy Buchanan, Bonamassa has all the technical stuff down but knows the virtue of deploying volume and intensity sparingly. After taking your breathe away he lets you pause and inhale as he takes you down in a different mood again.
If Joe Bonamassa has somehow slipped past you and intelligent blues-rock has any appeal, then this is one you should find hard to resist.
Like the sound of this? Then check out this.