Graham Reid | | 1 min read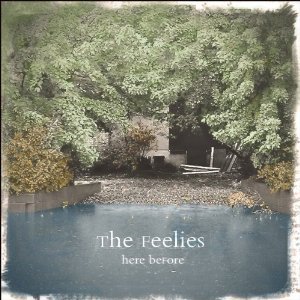 When a band which made one your favourite albums three decades ago -- Crazy Rhythms, an Essential Elsewhere album (here) -- gets together for their first album in 19 years you enter with trepidiation.
You know things can't and shouldn't be the same, and you remind yourself that after some dodgy stuff Wire of the same era delivered a more than merely creditable album last year.
The Feelies had such a distinctive, rhythm-driven and wiry guitar sound you might also imagine they only need approximate that and they would be on fairly safe ground.
And to see they are on the excellent Pop Frenzy label is also encouraging because although off to the left of Talking Heads in many people's consciousness, the Feelies -- who covered the Beatles -- were always a pop band. Although one with a white-knuckle nervous intensity.
And the opening lines on this knowingly entitled album show they are aware of what old fans might say: "Is it too late to do it again, or should we wait, another 10?" (Fair call, although check the ragged clip below and they were playing this two years ago. And Devo tried this same lyrical trick on their Something for Everyone last year.)
But this 13 tracks-in-50 minutes album gets away to a flying start: rhythmic, wiry guitars, wry lyrics, tight pop . . . Not that edge-of-seat discomfort of younger years but a more languid lyrical delivery (a little Lou Reed on Again Today) although the snappy undercurrent remains.
And later on (on the coincidentally entitled Later On) they remind you of the best of the Bats where those tautly strummed guitars drive the gentle, understated pop melody. And Morning Comes around the midpoint drops the mood down into another Bats-like gem.
There are some deft touches throughout such as the coiling guitar on the Velvets-like On And On.
Time is Right is the most similar to their first incarnation -- a buzzing pop song with fretful energy -- but it is when they go in the other direction towards more quiet and considered songs (Bluer Skies in the closing overs another in that manner) that this album shines as a statement from these Feelies, but not the Feelies of old.
Here Before would undoudtedly satisfy older fans and those of the Bats/Chills persuasion, but might even engage an audience which has no knowledge or even interest in whatever it was they did three decades ago.
The Feelies were never one of the edgy Downtown New York bands -- they came from New Jersey -- and this feels exactly like what a more mature and suburban version of them should sound sound like.
Very rewarding.
Like the sound of this? Then check out this.