Graham Reid | | <1 min read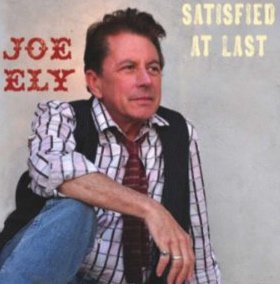 The very good news is that the great Joe Ely -- who has delivered a few patchy albums in the past decade -- doesn't sound at all "satisfied" as the album's title would suggest.
In fact from the opener The Highway is My Home to Butch Hancock's Circumstance 40 minutes later this tight'n'tidy 10 song collection has much of the old Tex-Mex and narrative fire-power of some of his best work.
Okay, Not That Much Has Changed is a somewhat cliche-filled rumination on the old hometown ("the schoolyard seems smaller, the church steeple seems taller") but is also elevated by some lovely imagery throughout and the middle verse ("I think about the war and the price we had to pay") throws it into perspective.
And then there are those stories he tells so persuasively with Spanish guitars (Mockingbird Hill, Hancock's Leo and Leona), and the slightly menacing Fifties rock edge which appealed to Joe Strummer (I'm a Man Now).
Not everything shines however: his treatment of Billy Joe Shaver's Live Forever doesn't quite have that frisson of absence the lyrics demand.
But the overall sense is that Ely has again fronted up with a fine collection.
Interested in more Joe Ely? Then check this out.