Graham Reid | | 1 min read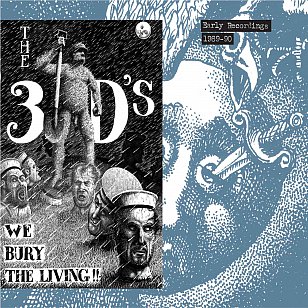 Inspired by everything from the Pixies and Neil Young's El Dorado EP, sonic noise and folk music, the 3D's were a Flying Nun band which inspired passionate loyalty for the visceral power of their sound and often weaving, beguling melodies (from singer Denise Roughan as well as the guitars).
The re-release last year of their early albums (Hellzapoppin', The Venus Trail and Strange News from the Angels) brought their name back to the fore and for a generation which had probably more often heard the name but only rarely the music their sound was something of a revelation.
This 21 track collection of demos and their first two EPs remastered (Fish Tails and Swarthy Songs for Swabs) was compiled by Bruce Russell of Xpressway (for whom many of the demos were recorded) and comes with an excellent booklet (essay by Russell) and is wrapped in the distinctive artwork of guitarist/singer David Mitchell (and Jane Davidson).
Logtime 3D followers will have an inkling of the contents: powerful and minimal bass lines (Roughan) with freewheeling duel guitar splatter (Mitchell and David Saunders) held down by supportive drumming (Dominic Stones).
Some might argue that some of the demos were exactly that and might have been best left in the vault, but for 3D completists there is a wealth of material here to pour over, not the least being the ragged angularity of the Hairs demo, the slewing energy of Mud Sacrifice and the $2 Shop production sound of the demo of Fish Tails, all three of which make an excellent back-to-back intro to the final third here.
If you get that far you can surely consider yourself a longtime fan -- or perhaps just one of those for whom this constantly surprising band (albeit one with not a classically great male vocalist in earshot) is a real revelation.
Ah, but those skewed guitars were always where it was at.
An enormously influential band again getting its (long over)due.
Like the sound of this? Then check out this.