Graham Reid | | <1 min read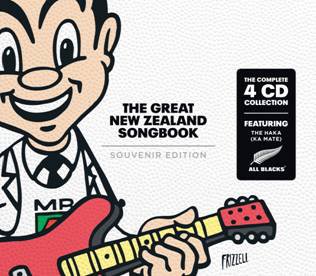 Well this four CD collection certainly takes the sweat out of present-buying for those Rugby World Cup visitors who will wash up on our shores, and also will fill a gap in the Christmas stockings of family and friends abroad.
Here the two previous editions of the Songbook (reviewed Vol 1 here and Vol 2 here) are kicked off by the All Blacks' rendition of the Ka Mate haka and then it is two volumes of New Zealand songs from last century and the two from this century in a tidy package that will fit easily into carry-on luggage.
The earlier discs have also been expanded by the inclusion of Brooke Fraser's Something in the Water, Avalanche City's Love Love Love, Ladi6's Like Water and Chris Knox's Not Given Lightly.
And it looks like the Exponents' rugby anthem-chorus Why Does Love Do This To Me? has been dropped. I understand they are using it for their own purposes in the weeks ahead.
Cashing in on the RWC?
Of course, but it's better value than an adidas jersey, right?
And will last a whole lot longer.
It is also the real thing, and there's a lot to be said for that.
Like the idea of this? Then try this.