Graham Reid | | 2 min read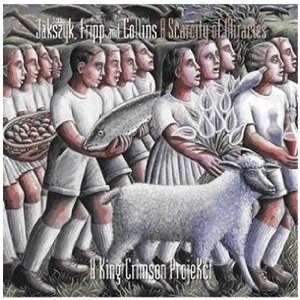 With the (almost) complete Pink Floyd catalogue being re-presented shortly, the Moody Blues arriving on our shores and bands like The Mars Volta, Radiohead and Porcupine Tree pushing the boundaries, there seems to be quite a lot of progressive rock, if not exactly old school prog-rock, out there.
Of course it never really went away and certainly guitarist/experimentalist Robert Fripp, a co-founder of King Crimson who has held their banner high for many decades, has always presented music which refers to classical, jazz and complex mathematical formulae to push listeners.
Fripp's collaborations with Brian Eno (especially on the albums No Pussyfooting and Evening Star in the early Seventies), his work on Peter Gabriel's most challenging solo albums, with David Sylvian (not to mention his League of Crafty Guitarists and League of Gentlemen and various other KC-related outings he calls "ProjeKcts") has made his one of the more interesting careers to follow.
And in some weird inversion of King Crimson, he now teams up with guitarist Jakko Jakszyk (pronounced Jack-Check) who worked with former KC member Mel Collins in the 21st Century Schizoid Band (where he played Fripp's KC parts), and saxophonist Collins himself, for a projeKct – which also includes bassist Tony Levin and Porcupine Tree drummer Gavin Harrison who were in the 2008 incarnation of King Crimson.
Given KC has always had a flexible membership policy you wonder why the album A Scarcity of Miracles just didn't come under that name.
But it appears credited to Jakszyk, Fripp and Collins. Fripp explains "it has the King Crimson gene but is not quite KC".
Fair enough, it's his band and he gets to say what is KC and what isn't – and to be fair this doesn't sound like early KC (Court of the Crimson King etc), the Discipline era KC or even their more recent project/projeKcts.
Collins' delightful, squirreling sax lines are central ride across the Fripp/Jakszyk guitars; Jakszyk's vocals are almost ambiently cool (I'm hearing Roxy Music guitarist Phil Manzanera's 801 band at times); Fripp gets away some lovely keening work on The Price We Pay; the eight minute Secrets drifts on calm sea of keyboards until the midpoint . . .
Some of the lyrics are Yes-like wimp-pop but the overall musical texture is benign – aside from the scouring KC/Frippery on the The Other Man – and although many won't be brushing off their flared trousers or granny glasses for it, A Scarcity of Miracles is an album which holds much more than might be expected, especially given Fripp can be a crashing bore sometimes and some KC albums hit you like a mathematically precise brick where you feel they are "good for you".
This is, but in a much nicer way.
Sort of a scarce miracle from Fripp and his Klever friends.
PS: This typically obsessively Fripp-curated album comes with an extra disc which has the album in a stereo mix (for them what has a separate stereo room in their house), two additonal improv tracks and the video of the title track in two separate mixes.
Like the sound of this? Then c heck out this.