Graham Reid | | <1 min read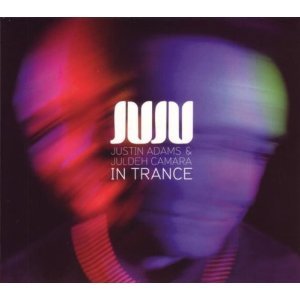 That alt.world between late 60s psychedelic blues-rock, frantic village folk, and fiery world music is a strange place.
It's where LedZepp, speedmetal-folk, Afro-blues, the Mississippi Delta and a fiddle-playing Jimi Hendrix (who isn't Nigel Kennedy) come together and live in . . . if not harmony, then at least the same bar where they drink moonshine and palm wine.
This album is that place, and your tipple is a don't-care-no-more top shelf and it's-my-turn-on-the-jukebox.
In Trance isn't easy and you don't get a cup of tea and a lie down, but if you listen it is bewilderingly exciting meltdown of styles. But you don't sit.
Juju are British guitarist Justin Adams and Juldeh Camara from Gambia (on the equivalent of a one-string but expressively scouring violin) whose contract seems to be getting together with a gutsy rhythm section and inviting you to push back furniture for a nasty night of mind-bending and ear-cleansing Afro-rock (the 14-minute Djanfa Moja will test anyone's aerobics regime).
The 13-minute Mariama Trance is like a hoe-down in the Atlas Mountains of Morocco. The title of Deep Sahara speaks for itself as long as you understand lying down is not an option.
This is excitable music for people off their medication and the good news is you can't understand a word.
You tune in, turn on and droppa-move.
Like the sound of this? Then check out this.
FOR OTHER 'BEST OF ELSEWHERE 2011' ALBUMS GO HERE.