Graham Reid | | 2 min read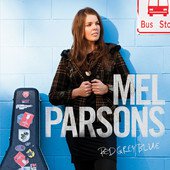 In a country which sometimes seems too profligate with singer-songwriters, a few stand out -- and it was no surprise Mel Parsons should have been nominated for a music award on the strength of her previous album Over My Shoulder, although being in the folk album of the year category would seem to marginalise her in some ways.
For many "folk" would be a strange tag for someone like Parsons who has a keen pop sensibility alongside some serious alt.country (and even mainstream country) skills.
This new album -- a big step up in writing, delivery and production -- should remove the folk label as it bounces from deftly augmented, optimistic pop (I Won't Let You Down, the refrain of"you gotta hold on" in Things Will Get Good) to self-doubt ("I'm supposed to stand here and make out like I'm strong, what if I'm wrong" on the brooding, new country-flavoured Bones, and the multiple interpretations possible in the foreboding sound of Damage).
Parsons also captures lifestyles in searing snapshots: "We play pool and we muck around, bad karaoke is the only sound" and "jaggy hems and highlights, sterling silver teeth, she's lovely on the outside just not much underneath" grabs images from those pointlessly repeating evenings of cigarettes and booze in the melancholy reflections of Saturday Night.
And she does it again on the banjo and fiddle coloured True Story which opens, "I went off to Calgary hoping to make it big, got a two-bit job in a motorcycle store . . . . you turned up to take me home, I said I surrender I will come with you . . . . I'm so sorry to your family, I'm so sorry to your kids, but it is what it is . . ."
Problematic love turns up again in We Will Find Love Again, addressed to a third party when a relationship gets complicated.
Parsons has delivered an album with musical texture and colour (among the discreet supporting cast are co-producer Jeremy Toy, Andre Upston, fiddle player Nik Bown, pedal steel player John Egenes, Don McGlashan, Greg Johnson, Anika Moa and many others) but also well crafted songs which cover a range of real human emotions such as reflection, loss, bad love, happiness and the comfort of companionship.
The lightness of touch, handclaps, soft drumming and catchy chorus in Springtime Sun sound tailor-made for summertime radio, but Parsons can also take you to deeper places.
And right at the end on the gentle ballad End of the Day she looks to that emotional glue which holds love together despite the troubles of life: "When we're feeling helpless, when we're feeling small, we can get together and laugh about it all . . . at the end of the day I'm still gonna love you, I'm right here beside you through whatever goes down, at the end of the day".
Few albums end on such a pitch-perfect emotional and reassuring note. Quite something.
Mel Parsons has answered The Famous Elsewhere Questionnaire here and goes on a New Zealand national tour in September, October and early November. The dates and venues are at the end of her answers.