Graham Reid | | 1 min read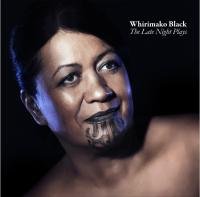 Five years ago Whirimako Black received the New Zealand Order of Merit for her services to Maori music. Yet for some reason – because her albums have been in Maori perhaps? – she has rarely captured mainstream attention.
Her decade-long recording career began with immediate acclaim (her debut Hine Pukohurangi won best Maori language album at the 2001 music awards) and has been remarkable for its diversity as much as her consistency and soulful, inspired singing.
She worked with guitarist Joel Haines for the excellent Tangihaku album in 2004 and with multi-instrumentalist Russel Walder for the innovative Kura Huna the following year which placed her remarkable voice in a quasi-ambient context where his oboe wove gently around her ethereal vocalising. It wouldn't have sounded out of place on a classy European jazz label like ECM.
In 2006 Black delivered Soul Sessions (with jazz musicians) in which she sang standards in te reo and although not every interpretation worked it showed the Great American Songbook was also within her accomplished grasp.
The following year she again teamed up with jazz players for Sings on which she again adapted classic songs like My Funny Valentine and The Shadow of Your Smile into te reo (and English).
Along the way she has also appeared on the 1 Giant Leap album, the soundtrack to Land of Our Fathers, the collection honoring poet Hone Tuwhare, and was a featured vocalist with Salmonella Dub for their Feel the Seasons Change concert and CD with the New Zealand Symphony Orchestra.
You'd think she would be a household name, but she sems to be a singer many have heard of, but rather fewer have taken the time to listen to. That te reo thing perhaps?
That should all change with this new album – wrapped in a beautifully timeless cover photo by Becky Nunes – because here she sings standards, blue ballads (Lover Man and At Last long associated with Billie Holiday), contemporary classics (Joni Mitchell's Both Side Now, Leonard Cohen's Dance Me to the End of Love) and material by Sting, Al Green, Erykah Badu and others.
And it is in English.
Again her voice is in a sophisticated small group, jazz setting (pianists Aron Ottignon and Jonathan Crayford, bassists Jonathan Zwartz and Kevin Haynes among them, trumpeter Kim Paterson on the Miles Davis piece Run the Voodoo Down).
In Lover Man she hints at Holiday's tone in God Bless the Child, on the Cohen she offers a terrifically slinky, finger-snap cocktail-hour revision of the song, U2's often forgotten Love is Blindness (from Achtung Baby) sounds written for her smoky vocals, and the five minute-plus Davis piece becomes a restrained'n'funky showcase for her autobiographical lyrics ("I walked all the way from Ruatoki . . .").
Whirimako Black is one of our finest singers and an increasingly assured interpreter of a lyric.
When she sings "when it comes to making music, I run the voodoo down" you better believe it.