Graham Reid | | 1 min read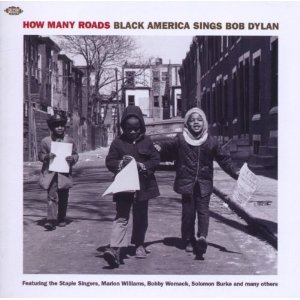 Further to the previously posted collection of black artists singing the music of Lennon and McCartney (here) and posting Gary US Bonds singing Dylan's From a Buick 6 at From the Vaults, we should throw the spotlight on this 20-song album which came out a year ago.
Dylan's early material -- Blowin' in the Wind especially -- found early favour with many black artists (Stevie Wonder had a chart hit with Blowin') because the lyrics spoke to those involved in the civil rights movement, and Blowin' owed a debt to a spiritual No More Auction Block which Dylan used to sing in folk clubs.
The version here by O.V. Wright (produced by Willie Mitchell) borrows heavily from Wonder's version of the previous year but is none the worse for that.
But what this collection shows is how these artists find a soulful core in many of Dylan's lyrics and also locate a melody that was probably not as evident in Dylan's often monochrome treatments.
So here Marion Williams aches her way through I Pity the Poor Immigrant, the Neville Brothers with Aaron upfront offer a classically holy rendition of With God on Our Side, and the Staple Singers drop Masters of War right into the heart of black neighbourhoods stripped of young men for the war in Vietnam.
Among other interesting versions are Persuasions with a doo-wop makeover on the often overlooked The Man in Me, Con-Funk-Shun take Mr Tambourine Man down to the bellbottom and Afro streetcorner of the Seventies for some booty funk, and Patti LaBelle makes over Most Likely You Go Your Way in her own soul groove image in the late Seventies.
Booker T gets behind Knockin' on Heaven's Door, Bobby Womack's All Along the Watchtower thumps along with the Muscle Shoals rhythm section driving it and Nina Simone from '71 possesses Just Like a Woman, as you might expect.
Not everything is successful: Solomon Burke hardly sings up a storm on Maggie's Farm that he might have done, and Major Harris grapples with a soulful treatment of Like a Rolling Stone (not enhanced by backing vocals). The Isley Brothers try to perhaps invest too much emotion into Lay Lady Lay.
Freddie Scott's version of I Shall Be Released might surprise some for its assertive tone (it's there in the lyrics) and how he changes the esoteric nature of some of the song into something much more earthy and real.
So a fine collection, good liner notes, coupla disappointments and no, no Jimi Hendrix on Watchtower.
Like the sound of this? Then check out this.