Graham Reid | | 1 min read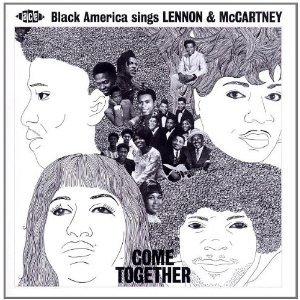 Although their peers like the Rolling Stones, the Downliner Sect and Pretty Things were more profoundly influenced by black American music, the Beatles certainly drew on that deep well.
In their Hamburg days they played songs by Chuck Berry, Arthur Alexander and Little Richard, on their first two UK albums they covered the Isley Brothers' Twist and Shout (Lennon's definitive version), the Marvelettes' Please Mr Postman, Smokey Robinson's You Really Gotta Hold On Me and Berry Gordy's Money.
When they toured the US they requested black acts like the Ronettes, Motown's Brenda Holloway and saxman King Curtis open for them.
So blues, soul and rhythm'n'blues seeped into the writing of Lennon and McCartney, which explains this 24 track collection of black acts taking on everything from Please Please Me (Mary Wells in a colourless big band treatment) and I Want to Hold Your Hand (the peerless Al Green) to Let It Be (Aretha Franklin on top gospel-soul form with King Curtis) and Come Together (a slinky soul brother version by Chairmen of the Board).
Ticket to Ride sounds written for soul-blues belter Wee Willie Walker as does Drive My Car for the sassy Black Heat, Billy Preston (the only person to get a co-credit with the Beatles when he played on Get Back) delivers a slow-burning Blackbird, bluesman Lowell Fulson offers a gritty barroom treatment of Mc Cartney's throwaway Why Don't We Do It in The Road and Roy Redmond takes Good Day Sunshine from an English garden to the steamy South under trees draped in Spanish moss.
Little Richard claims I Saw Her Standing There – with its "oo-oo" – as his own.
Unfortunately absent is a Ray Charles' version of Eleanor Rigby (here it is an equally fine but more brooding Gene Chandler version) and Ike and Tina Turner's thrilling Come Together, but you can't have everything. And this consistently delivers unexpected funk'n'soul to songs overly familiar in the originals.
And Otis Redding's stonking Daytripper.
Like the sound of this? Then check out this.