Graham Reid | | 1 min read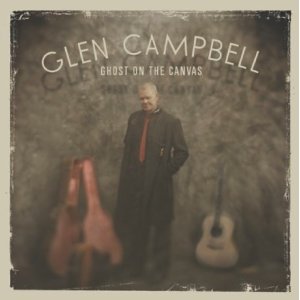 Alongside his Alzheimer's diagnosis and a farewell tour comes this self-announced "final studio album" by the 75-year old legend whose career spans from LA session guitar work in the late 50s as one of the famous Wrecking Crew on Phil Spector productions, to being a touring Beach Boy, solo hits with Jimmy Webb songs and movies all before the close of the Sixties.
Remarkable.
On his previous album Meet Glen Campbell of 2008 he covered material by Tom Petty, Paul Westerberg, Jackson Browne, Lou Reed and others, and it was produced in the manner of that classic Webb period. It was more interesting than essential.
But here that largely undiminished voice addresses the inevitable (A Better Place, the title track by Westerberg), the firmness of his faith (the uplifting, wide-screen production of It's Your Amazing Grace) and the loves of his life (the chin-up declaration on Strong, the face-to-the-wind closer There's No Me Without You with Billy Corgan, Brian Setzer and others). Brief and evocative instrumentals punctuate throughout, many refer to his places and events in his life (his hometown of Billstown) and the final one is The Rest is Silence.
A concept album about the leaving of a long and extraordinary life, in a way.
Opening with the brief A Better Place ("I've tried and I have failed Lord" are the first words from a man who fell from grace spectacularly a few times through women and booze), Campbell takes a journey through discreet references to his past, and his present which is that "place between life and death . . . the ghost on the canvas" as his memory slips away.
Yet these mostly self-penned songs are not maudlin, self-pitying or so suffused in religion as to be cloying: He looks back at it all, good and bad, in A Thousand Lifetimes ("each breath I take is a gift that I will never take for granted"); power pops through Teddy Thompson's In My Arms with electrifying country-rock guitars (himself, Dick Dale among them); and finds timeless but personal resonances in songs like Westerberg's rocking, life-affirming but heart-aching ballad Don't Go to Any Trouble ("you know I won't be here long").
Robert (Guided by Voices) Pollard's Hold on Hope references television, a cowboy (theone-time Rhinestone Cowboy had his own series) and most movingly "always reaching out for a hand that we can't see". It is Campbell looking back but also knowing where he is now, and what awaits. Exceptional.
Jakob Dylan's Nothing But the Whole Wide World is a slight misstep, but otherwise farewell letters don't come much more dignified.
Like the sound of this? Then try a leap into this.
FOR OTHER 'BEST OF ELSEWHERE 2011' ALBUMS GO HERE.