Graham Reid | | <1 min read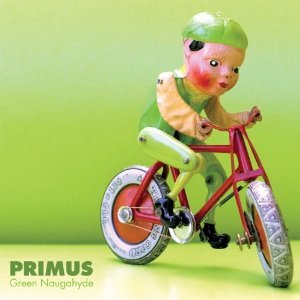 After almost a decade with no new material it's a surprise to find California indie-rockers Primus (who did the original theme to South Park) still around.
But on this typically edgy, odd and bass-oriented outing they sound as out-there as ever on material which welds funk, jazz-rock and Zappa-like lyrics (about salmon farmers, ecology, spaghetti westerns, burgers) together into their archetypal amalgam.
Bassist Les Claypool remains the Stanley Clarke of rock and central focus, but with simple and direct grooves laid down by drummer Jay Lane and fills from guitarist Larry Lalonde, this one – swerving from mad gypsy polka on Eternal Consumption Engine to the strange sonics of Jilly's On Smack – comes off as a collection of short, sharp attack-and-retreat songs.
If they mean little to you or you never cared for their wacky humour, nothing here will be of much interest.
By turning down the metal and thrash edges – as well as some of their prog instincts – this comes off rather tame in places (the Bootsy-lite funk of Tragedy's A Comin') and lacking the grit and fibre of their best.
But, as with Zappa, there are rewards for the persistent and, although they seem fewer over the 50 minutes, selective picking (Last Salmon Man, the strange Eyes of the Squirrel) weasels out small gems.
And there's virtuoso bass playing for readers of Guitar Player magazine.
Like the sound of this Then check out this.