Graham Reid | | <1 min read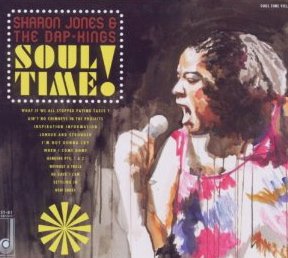 Soul singer Jones' credentials were unequivocally accepted when people learned she'd been a prison officer at Rikers and a security guard for Wells Fargo.
Tough don't get more tough than that, and allows her to sing gutsy soul, funk and rhythm and blues like Etta James-meets-James Brown.
This 12 song collection (mostly written by DK bassist/producer Bosco Mann) gathers previously unreleased tracks, live favourites and b-sides where Jones and band get into a funky stew, with a little Fela-framed Afrobeat groove on I'm Not Gonna Cry.
From the scene-setting opener Genuine Pt 1 with its shouts and good-foot rhythmic punch they introduce a three point Chicago/Detroit/Memphis soul implosion which is (mostly) persuasive. But on Genuine Pt 2 she gets left behind by the band's upward trajectory and on When I Come Home she's powerfully upfront but offering little to what the terrific band give.
However He Said I Can is raw and exceptionally earthy, and (despite the somewhat Greek question in the title) What If We All Stopped Paying Taxes is a boiling political soul-funk killer of the James Brown kind. A standout, alongside the too brief Settling In, the tough but sentimentally milking-it Ain't No Chimneys in the Projects and soul pop of Without a Trace.
A lesser Jones/Dap Kings album but one which confirms they bring funk-soul truth.
Like the sound of this? Then check out this.