Graham Reid | | 2 min read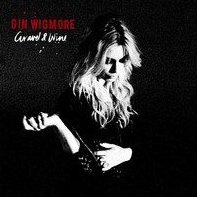 Although the remarkable Gin Wigmore mostly co-wrote here, you'd have to say it is her voice -- not just her musical voice -- which comes through with utter clarity. And yes, this extraordinary album is full of her stylistic vocal signature . . . but there is something much more interesting and exciting going on here.
These days many young artists drown themselves in references: the Eighties, disco, Prince, early solo Michael Jackson et al . . . and let's not get to alt.country university graduates who sing like they were brought up Baptist in Georgia or in the backwoods of the Appalachians.
But Wigmore stands out for her effortless and astute assimilation of very different and more difficult parts of the past. Perfectly post-modern.
At any given moment here she inhabits the spirit of the great Eartha Kitt (the terrific Black Sheep with its sly and sexual "once you go black you never go back", the dirty/earthy Man Like That, and on Poison which are the three openers), or the soul of the late Fifties/early Sixties with Brenda Lee in the room (the standout ballad If Only with its string-soaked drama, a contemporary classic awaiting many covers).
Yet this co-exists with stuttering guitar rock (Kill of the Night with its finger-snap cabaret-to-arena rockabilly).
Only the Sweet Hell rock hoe-down with co-writer Butch Walker sounds forced and obvious. It's a dull filler, despite its flat-tack energy.
For the rest of it, Wigmore here often comes off as a powerful woman wronged, and she pays out on that miscreant lover in songs which stab like a shiv, and sound thrillingly energised.
"I've got the Devil's disease, got the jealous in me," she sings in a way which is utterly convincing.
Okay, over the running time the relentless rhythmic batter and often furiously upbeat assertion can be a little wearying. But sounding wise beyond her years (Man Like That deserves serious lyrical deconstruction by young women, Gin is doing their parents' work), Wigmore opens doors to the musical past while remaining firmly in the present: until the final track, her solo spot on the country-flavoured and emotionally bruised Singin' My Soul.
As with Kimbra's equally exceptional and adult Vows, Wigmore delivers adult matters wrapped up in music which references so much of the past but sounds absolutely contemporary.
She appropriates from ancient blues, smoky clubs and bordellos and pulls it all into the pop charts and nightclubs. Mothers should warn their daughters: Gin could be hazardous to their sexual/sensual health. Or the making of them.
"You're a bad boy now, but I want you . . . I saw the blood in your eyes . . . I'll give you what you want and more . . ."
And here is the big black snake and "shake my bones and rattle my grave, he's gone digging in the bitch again" on Happily Ever After, persuasively written from the viewpoint of a woman at least twice Gin's age.
Hard to believe a young white woman could so successfully channel Eartha Kitt and smoky nightclub singers, but turn them into guitar and horn-driven pop-rock with this much sensual menace.
Ridiculously good.

Dirty Love indeed.

FOR OTHER 'BEST OF ELSEWHERE 2011' ALBUMS GO HERE.