Graham Reid | | <1 min read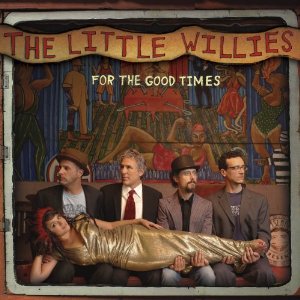 You'd be entitled to wonder if Norah Jones wasn't in Little Willies, would mainstream reviewers who seldom touch country music at any other time be quite so interested in this group from New York?
The point is moot of course, because Jones -- who brings a real love for the idiom she grew up on in Texas as a child -- is here on these 12 (mostly) covers of such country classics as Kris Kristofferson's title track, Dolly Parton's Jolene and Willie Nelson's Permanently Lonely.
Such material might not be unexpected (Jones is utterly persuasive on For the Good Times and Jolene, and Remember Me) but elsewhere they get into Lefty Frisell's If You've Got the Money I've Got the Time, the truckers' favourite Diesel Smoke Dangerous Curves and the amusing Foul Owl on the Prowl (improbably written by Quincy Jones among others) to mix things up.
Guitarist Jim Campilongo contributes the twanging but directionless instrumental Tommy Rockwood but Loretta Lynn's wronged-woman (but politically incorrect) Fist City comes off better in Jones' hands.
For the most part this album rises when Jones comes to the fore, but while you can applaud the effort and integrity you do wonder why it doesn't sound like a lot more fun for these fine folk.
And there is nothing here as genuinely funny as their Lou Reed song on the last one.
Like the idea of this? Then check out this.