Graham Reid | | 1 min read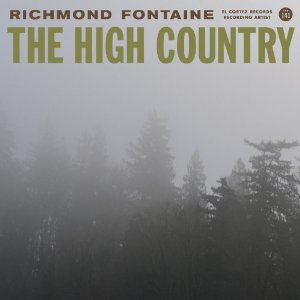 If anyone can write a concept album it's Willy Vlautin of the alt.country Oregon band Richmond Fontaine whose first novel The Motel Life was as dark and violent as anything by Cormac McCarthy (No Country for Old Men, The Road) or Elmore Leonard.
Previous Richmond Fontaine albums have had themes too: The Fitzgerald was based on Waitsean, marginal characters around a seedy casino where Vlautin had lived, and We Used to Think The Freeway Sounded Like a River was a character-driven collection about outsiders.
The High Country goes for the big sweep, a cinematic story in song about a trailer park girl in a northwest logging town who gets pregnant then married to young logger, loses the baby, then disappears.
The album is framed like a detective novel which opens with an outline of the bare bones of the story and the blunt, spoken word "I'm just fucked Arlene" and that piece closes with, "No one ever knew what happened, not even the police, who were sure it ws the kid but could never pin it on him. That's all I got so far, Arlene".
After that the narrative and songs unfurl like a multi-viewpoint radio play with spoken word passages enacting the action, sound effects, distant voices, snatches of songs from the radio, menacing ambient music and so on.
Because the songs propel the narrative you can't hit random play or sample a bit here and there, so this won't be easy for most.
The visceral darkness, latent violence, crystal meth-fueled characters and music of unease will however appeal to those who have previously passed the Vlautin/Fontaine way . . . or were engrossed by the equally bleak film Winter's Bone.
This sounds like it could make a similar film from the dark woods.