Graham Reid | | 1 min read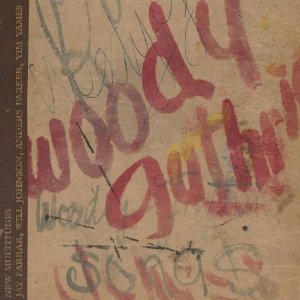 Some context? Woody Guthrie – whose words prompted this album by an alt.country semi-supergroup – died in 1967, around the time Taylor Swift's parents were born.
A model for the young Bob Dylan (now 70) and the folk movement of the early 60s, Guthrie also inspired Joe Strummer (who called himself "Woody" in his pre-Clash) and Springsteen.
About 15 years ago Billy Bragg and Wilco – at the invitation of Guthrie' daughter Nora who oversees the archives – used previously unpublished Guthrie lyrics for the two Mermaid Avenue albums, and others have done similar.
Now Jay Farrar (Uncle Tupelo, Son Volt), Yim Yames (aka Jim James of My Morning Jacket) and the lesser-known Anders Parker and Will Johnson have taken some Guthrie journal entries/poems for this stand-alone genre-defying album bristling with Dylanesque rock (the fierce VD City) and musical nods to REM (Angel Blues) and the Byrds/Eagles (the breeze-blown Old LA), while also pinning in smart alt.folk ballads (the falling apart Revolutionary Mind), the droning folkadelic title track and an eerily beautiful Chorine.
Although known as social activist, Guthrie's more personal words here ring with optimism (the aching fiddle-coloured Hoping Machine), loneliness (Empty Bed Blues) and courage in the face of death (the gritty singalong No Fear).
Although the line-up of alt.folk/alt.country luminaries might suggest that rather nice and polite Monsters of Folk coalition, this is much more meaty.
A limited edition comes with a bonus disc of 14 more songs.
Either way, check out this keeper.
Jay Farrar is interviewed here about this album and Woody Guthrie.