Graham Reid | | 1 min read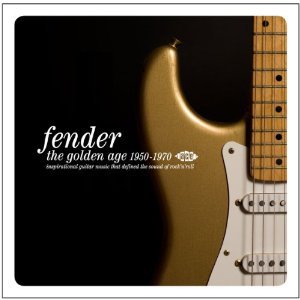 Any album which is dedicated to a brand of guitar -- no matter how legendary, as Fender is -- will always be uneven, depending on what kind of music you like.
So right at the end in the ad for Fender guitars when country singer Jan Howard hails the brand for being perfect for country pickers, that hardly sits with material like Dale Hawkins' Susie-Q, the Ventures' Walk Don't Run, Booker T and the MGs' Green Onions, Dick Dale's Miserlou or the classic garageband song Louie Louie by the Kingsmen.
On all these terrific songs the Fender is bent to the purposes of something tougher than gentle country pickin' -- as it is on the Yardbirds' I Ain't Got You (Mr Clapton in the house), Otis Rush's All Your Love, Otis Redding's Rock Me Baby (Steve Cropper on Telecaster), the Velvet Underground's Beginning to the Light and Donovan's Barabajagal (with Jeff Beck).
But yes, there is some country here too: Bob Wills, Tennessee Ernie Ford, Johnny Cash (Folsom Prison Blues with Luther Perkins on Esquire) and Buck Owens. And Faron Young also sings for Fender, as does Barbara Mandrell.
So as you may see from that diverse list -- and there is Buddy Holly (Someone to Love), Ronnie Hawkins (the still astonishing Who Do You Love?), the Beach Boys (Fun Fun Fun) and others -- this is hardly an album with any unified mood. Just a Fender prominent in each track.
Still, it gives us the chance to post the Bobby Fuller Four's classic I Fought the Law (with Bobby on Strat).
Poor Bobby, some say he fought the Mob . . . and the Mob won.