Graham Reid | | 5 min read
For a medium-sized town in France, Angers – pronounced An-jey, population about 240,000 – boasts a fascinating ancient and recent history. It was once a Roman town, numerous kings and queens had their courts here, and the main castle dates from the early 13th century.
A cultural hub, Angers in the Loire valley has also played host in much more recent times to numerous musicians. In fact, some of the most important and challenging American jazz musicians of last century played here.
"We had a theatre here where many very good jazz musicians came to play," says Denis Pean, founder of Anger's multi-cultural, genre-defying band Lo'Jo. "For example the Art Ensemble of Chicago, Don Cherry, John Abercrombie, Art Pepper and many guys like this all came.
"For me this was miraculous."
And for Pean, born here and who now lives 10kms outside of town in a house given to Lo'Jo a decade ago by Angers' mayor, these artists were formative in his own musical development.
"I never had a musical education because my parents were farmers and they had never been interested in arts. When I was teenager I was interested in rock and punk and I wasn't so curious about any other music.
"The original Lo'Jo music was not about notes or scales but about the picture I had in my head. I tried to learn classical music and learned bassoon at the university and I was interested in jazz.
"And the French have the longtime connection with North Africa, for example Algeria was a French colony and North Africans speak French, and in West Africa too."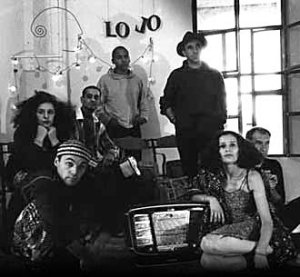 Also Angers is a sister city with Bamako, the capital of Mali, "so we have a special connection with the Malian people".
Out of this melange of musical influences Lo'Jo – a band with a flexible line-up formed 30 years ago by singer/keyboard player Pean and violin/kora player Richard Bourreau – emerged as distinctive voice bringing elements from all these areas. And more.
Anyone seeing Lo-Jo perform is immediately struck by Pean's dark cabaret style of presentation. Like some circus-noir clown or a gypsy-jazz Tom Waits, he prowls the stage and sells the songs by way of acting them out like a street theatre performer which . . .
"Ah yes, when I began to be a professional musician, a street theatre company gave me the opportunity to travel in Europe with them and to go to places like Poland where I met gypsy musicians. And that was another musical education for me.
"In fact my musical education is rock then classical, jazz, African, gypsy and then reggae and dub. And after I travelled in the Indian ocean I became interested in the Creole music."
Fueled by all these influences, Lo'Jo have created music which ignores easy categorisation but has found them a place on the global festival circuits. They fit just as well in a Womad * or the Festival in the Desert line-up as in rock, jazz, reggae and gypsy contexts. Needless to say, they are far too problematic for mainstream radio and television in France.
"We don't have many opportunities to play on television because that is now very commercial. There are some very good regional radio stations, but the big FM radio just have commercial stars from Anglophone places or play sweet French songs.
"But it is not my way to do the radio and television, I don't have much interest in them, I am more an auteur."
With Berber sisters Yamina and Nadia Nid el Mourid in the line-up since the mid Nineties, Lo'Jo have also leaned strongly towards North African sounds, and the band has long had connections with African artists. They have performed with Tinariwen, who have been regular visitors to their commune/house outside Angers which is a hub of musical activity in the region.
"We have a special connection with the mayor and have a citizen contract to give something to people of this place in education and through schools. We have small concerts in the house for people.
"This situation is rare but my mayor is very involved in social and cultural things, so we have been here 10 years and have received people from many countries who are just in transit or come to practice or to record.
"Each day we work here and rehearse, and we have a place for other people so if someone wants to come we decide on price and conditions. For example a long time ago we met Tinariwen coming from the Sahara and they used to play Europe two or three times a year. They liked to come here because it is a peaceful place and they can play guitar all night and sit around the fire.
"It is a little bit magic, not so professional and we live like a family."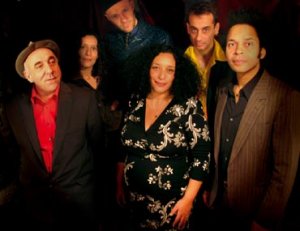 As much as their unique music and living situation is fascinating, so too is Pean who also brings the French poetry traditions to the band's albums in pieces which often seem like spoken word against a musical backdrop.
"Yes, I have a poetic background and when I was a boy I had no education and just one channel on black and white television. At school I began to read poetry and that was my first opening to the world. I began to write poetry when I was a teenager at the same time as I began to compose music, so I have that connection between the poetry and the music.
"I have a heritage from the language, and the way to express history or legend is through poetry. And we [French] had a way, a soft way and more classical, before hip-hop and rap, to express things by words."
But there is also a darkness at the heart of much of his work?
"No. I am very happy to live," he laughs. "But I have an interest in death and dark things, and the inverse of things. I am interested in all these parts of life and my natural state is melancholic. I feel a good vibration with the melancholics. I like this. For me my best pleasure and joy is when I have something melancholic and nostalgic."
Or when he gets to meet and play with musicians whose work – like jazz saxophonist Archie Shepp – he once admired from a distance. And on their forthcoming album Cinema del mundo, British singer Robert Wyatt whose wife Alfie has been a Lo'Jo fan for many years.
"I met him 10 years ago and he is one of my favourite singers and composers. We played in London a few times and Robert came, and the last time we were in Britain we were in a small town and he came 100kms in a car to see us play. He is on two songs on the new album.
"You know, I never thought I would be a musician in my life, it was impossible. A poor guy from the countryside with parents who were farmers and without any culture.
"And now I have the opportunity to work with a guy who gave me so much with a musical vibration. Incredible."
Like the sound of this? Then check out this.
* Lo'Jo are one of the featured acts at the 2012 Womad held at Taranaki, New Zealand over the weekend of March 16 to 18