Graham Reid | | 2 min read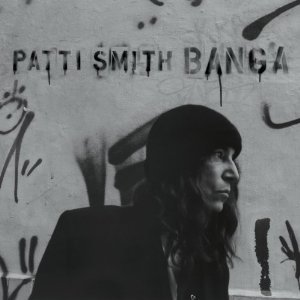 Although Patti Smith's albums have sometimes been given a rough ride at Elsewhere for their self-mythologising, pretentiousness and lack of subtlety (see here and here), there is no denying her importance in the rock pantheon, nor that her recent autobiography Just Kids is one of the finest books written by a musician-cum-poet.
It is pleasing to report therefore that this collection finds her back at the top of her game again and, despite some misgivings which will be dealt to first, this affirms that her rare gifts have emerged again.
With her tight band of Jay Dee Daugherty, Lenny Kaye and Tony Shanahan -- like the most crisp and disciplined garageband imaginable -- and guest guitarist Tom Verlaine in a couple of crucial places (and yes, Johnny Depp on the title track, and others), this one has sharp focus.
In the thorough liner notes she outlines the genesis of the songs such as reading Bulgavok's Master and Marguerita (which, incidentally, inspired Jumpin' Jack Flash), the deaths of French actress Maria Schneider (whom she had met) and Amy Winehouse (whom she hadn't), some odd coincidences (seeing Piero della Francesca's Dream of Constantine in Florence after receiving a postcard of some 20 years previous), inspiration from a film by Russian director Andrei Tarkovsky . . .
All interesting background (and useful) but the album opens with its most problematic song, Amerigo, which is inspired by the 16th century voyages of Amerigo Vespucci who traveled to South America and after whom America is named.
Orchestrated and romantic in tone, it boasts a beautiful melody and hypnotic lyrics ("Hey, wake up" interpolated during a quiet passage) but -- as Neil Young did on Cortez the Killer -- Smith projects a utopian view of indigenous tribes in the New World. In a letter back to his king, Amerigo observes he [Amerigo] has no wisdom, that the people bowed to no king and lived in liberty as he writes of "dancing naked as they, baptised in the rain of the New World"..
This is poetic license of course, a kind of magic realism, and despite that great leap into the realms of the improbable, the song is a genuinely seductive opener and leads into the ethereal pop and lyrical poetics of the invitation to escape on April Fool (Smith in gentle but powerful voice, Verlaine weaving distinctively mercurial guitar figures).
Thereafter come high points aplenty: the tribute to Winehouse on This is the Girl is a genuine and affecting ballad in which she offers a confidently crayon-written outline of a life which starts off as a party and ends in a line crossed and a smothering vine "twisting as a laurel around her head, laid as wreath on her bed". Cast as a classic Fifties pop ballad, it reaches across the generations and could be about any pop queen whose life has unravelled with tragic consequences.
Maria (about the actress opposite Brando in Last Tango in Paris) is equally sensitive and again Smith seems in remarkably assured and melodic voice over simple piano and soft guitar, as she ponders the personal weight of the once-beautiful actress' death as fame turned to notoriety: "I knew you when you were young, and now you're gone . . . in a little narcissist pool, drawn by its spell, we saw ourselves, raw, excitable . . ."
There is also straight-ahead pop-rock here (Fuji-san about the Japan earthquake) which might have stepped off one of her earlier albums; the raw edged energy of the scatter-shot and desperate sounding title track (backed by the howl and bark of dogs); the improvised Tarvokvsy with son Jackson's fretful guitar; Nine with Verlaine reprising his glistening tapestry of silver-edged melodic lines to fine effect as Smith becomes the poet-priestess one more time . . .
The album closes with two extraordinary pieces, the 10 minute incendiary meltdown of the Book of Revelations-meets-An Inconvenient Truth that is Constantine's Dream (strange visions in the sky and at night, the spirits of Jim Morrison and Jim Carroll conjured up in an improvised piece which references the painting over eerie strings and discordant guitar) and then -- by way of an ameliorating balm -- a quiet and considered version of Neil Young's After the Gold Rush to cool the spirits and which closes with a children's chorus.
Patti Smith's recent albums have irritated and disappointed as often as they have iluminated and excited.
This one stands as the equal of her best and, in its tone of regret and rage and the passing of things, it feels complete, coherent and consistent.
Recommended.