Graham Reid | | 1 min read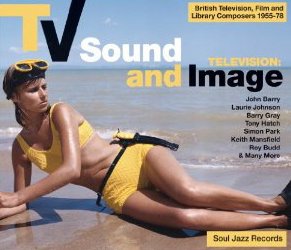 More than two decades ago a budget price company in the US put out a collection of 65 television theme songs (Popeye, Petticoat Junction, Green Acres, The Munsters etc) and while serious critics and reviewers sniffed, they laughed all the way to the bank.
In New Zealand there were similar such projects and again the public lapped them up because they brought back memories and settled arguments. (Next line in The Flintstone's song after this "Let's ride with the family down the street . . ."?*)
The conclusion then? People love this stuff.
Soul Jazz -- usually aiming for more obscure collectable items such as soul, r'n'b, blues and jazz -- swings in with this double disc collection of British film and television music which pulls together 36 tracks from Pentangle's Light Flight theme to Take Three Girls in the Sixties to music for shows not seen in New Zealand in the late Seventies.
Naturally there are some big names here -- Geoff Love, Tony Hatch, John Barry, Roy Budd -- and many whom you've never heard of let alone know the show or movie the music comes from.
Which makes this an interesting exercise.
Sometimes it will have a whiff of nostalgia if you are old enough to know that sensation. (I got Richard Denton and Martin Cook's theme to Tomorrow's World immediately, although I doubt I have heard it at least four decades.) But mostly it will be an exercise in imagining the images or pinpointing an approximate date by virtue of the musical style ("Wah-wah, gotta be about '72")
Interesting enough.
But I can't believe some of the most famous themes of all -- Coronation Street, When the Boat Comes, Dr Who etc -- aren't here.
* "through the courtesy of Fred's two feet" I believe. Think about it.
Like the sound of this? Then check out this.