Graham Reid | | <1 min read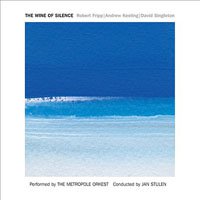 Holland's Metropole Orchestra has an impressive track record in performing with musicians from across the rock, pop, jazz and world music spectrum.
Down the decades they have worked with people such as Ella Fitzgerald, Oscar Peterson and Tony Bennett to Antony and the Johnsons, Mike Patton, Joe Cocker, Brian Eno, Andrea Bocelli, Basement Jaxx . . .
For this album they turned to the music of Robert Fripp (of King Crimson) and his collaborators Andrew Keeling and David Singleton.
The latter approached the orchestra with transcriptions of Fripp's guitar soundscapes and, remarkably given they come from completly different ends of the musical spectrum, these six pieces (two versions of Pie Jesu) come off like wind blown, cinematically sweeping tone poems.
Fripp's guitar performances from the mid Nineties form the basis for what is here and this isn't entirely uncharted territory. Fripp and Eno's Evening Star was arranged by Keeling for the Canadian ensemble Contact, and of course Philip Glass explored Bowie's Heroes and Low for his symphonic albums.
If the Glass seemed rather forced in placs, the opposite is true here. This fairly swoops out of the disc with its own momentum -- think Ligeti in the choral-enhanced Miserere Mei -- because the orchestral music was subsequently looped and multi-tracked by Fripp and Singleton to give an added sonic and emotional breadth.
From conception by Keeling to final release took almost 20 years. Let's hope they pick up the pace for another collection. This deserves a sequel.
Like the sound of this? Then check out this.