Graham Reid | | <1 min read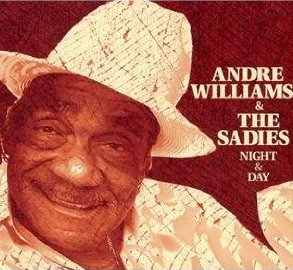 The rum-gargling mid-70s soulman Williams speak-sings from the pit of anger, despair and his gravel-pit throat about America ("the mens are dogs, the women are hogs, but that's not a bad thing, it's better than livin' in . . . Africa") and offers a streetlife philosophy of tough times, crime, addiction and poverty.
This tough ol' bird wrote Shake a Tail Feather back in the Sixties, was on the Chess label once, and here with Canada's Sadies providing punk-folk blues and harmony vocals – Jon Spencer as musical director, rough-house guitarist Jon Langford and others – he delivers angry observations ("worst thing in the world is a black man, bored") with directness and sometimes wrapped in brittle Chicago blues. His homespun thoughts are bruising ("Keep yo' arse outta Mississippi and Joliet . . . and a couple of more places where they don't like n******")
But this is the gospel according to Andre (there's country balladry and the rather more holy, "I thank God and the higher power for letting me live to this hour").
When he says "I don't use drugs no more, but I will if I have to," you don't doubt it. He's a black, angry street corner philosopher carrying a broken bottle.
Unique.