Graham Reid | | 1 min read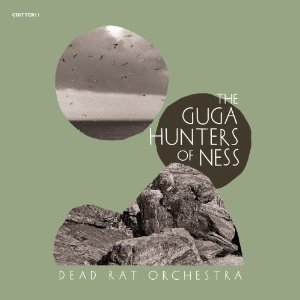 Although their name suggests they aren't making a bid for mainstream attention, this British ensemble here serve up a soundtrack album which is rather more interesting than its odd title.
As in New Zealand where certain families have a traditional right to collect mutton birds from remote islands way to the south in dangerously unforgiving waters, so too the people of Ness on the isle of Lewis in Scotland collect gannets ("guga" in Gaelic) from a distant island in the North Atlantic, a journey as hazardous as it is unforgiving.
A recent BBC doco traced the voyage of 10 local men to this outcrop of rock where they slept in 1000 year old abandoned monk's quarters and hunted guga for two weeks before making the journey home.
Dead Rat Orchestra -- Nathaniel Mann, Robin Alderton and Daniel Merrill -- immersed themselves in Hebridean music and specifically the songs of Ness, and created this stark, often gloomily appropriate series of pieces which allude to folk in the scraped violin, the thump of waves on the side of ship in the low percussion (they recorded it on a boat in Essex) and the sheer loneliness of the place by the spacious and quietly droning quality of the music.
For those who get the reference, this is like the Penguin Cafe Orchestra with the whimsy, humour and quirkiness removed.
This won't be for everyone but if the Man of Aran doco/music by British Sea Power appealed then try The Guga Hunters of Ness. It can be strangely compelling.
I couldn't find the link to the BBC documentary so maybe turn down the sound on the clip below and play the sample track. That sort of works.
Like the sound of this? Then check out this woman.