Graham Reid | | <1 min read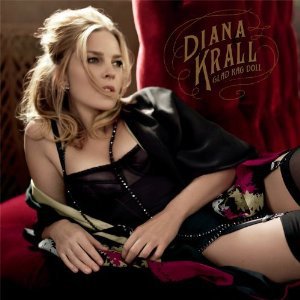 Canadian jazz singer/pianist Diana Krall had an assured if undramatic career until her 2004 album Girl in the Other Room, mostly co-written with new husband Elvis Costello, which included more interesting songs (Tom Waits' Temptation among them).
This album – in a cover where she's draped like a sultry dominatrix – pushes further.
Longtime producer Tommy LiPuma is dropped in favour of Costello's old mate T-Bone Burnett, the band includes Costello/Waits guitarist Marc Ribot and Colin Linden on dobro, and the songbook is of lesser-known but timeless songs from the Twenties and Thirties along with Doc Pomus' Lonely Avenue (turned into Waits-spooky by the gloomy arrangement) and Wide River to Cross by Nashville's Julie and Buddy Miller.
The jazz (improvisation) has also been reined in, so this persuasive song collection favours country-flavours (the jaunty I'm a Little Mixed Up, a stately Prairie Lullaby, the desertscape Let It Rain), classy ballads (Here Lies Love, Just Like a Butterfly) and old style swing-into-funkiness (There Ain't No Sweet Man). Most are coloured by Ribot's slightly off-kilter guitar.
Her old fans seem to hate this because she's changed, but she'd been there-done that.
She'll probably retreat again, but this is kinda cool.