Graham Reid | | 1 min read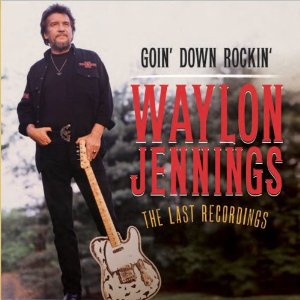 Subtitled "The Last Recordings", this 12 song collection appears a decade after Jennings' death at age 74 but the title almost came true many decades previous.
Jennings had been playing with Buddy Holly and gave up his seat on that final flight which killed Buddy, the Big Bopper and Richie Valens. If the plane had been any bigger it might have taken not just Waylon but also Dion who was on the tour.
Needless to say for the one-time outlaw there are two parallel threads in these songs as the title track suggests: there's the fighting spirit songs (If My Harley Was Runnin', Never Say Die) which are the least successful and the reflective songs where he considers mortality and the passing of time (I Do Believe, the spare The Ways of the World) and are infused with gravitas.
He also gets away a couple of timeless gems in Sad Songs and Waltzes ("just aint sellin' this year") and She Was No Good For Me.
These songs were originally recorded with just Jennings on guitar but the subtle over-dubs subsequently added are respectful and come from those who had worked with him, including Tony Joe White who adds guitar to the title track.
Jennings never quite connected with a non-country audience in the way his Highwaymen pals Kristofferson, Cash and Willie Nelson did, but he possessed one of the most honest, hard worn voices and was a damn fine songwriter (Wastin' Time here sounds like it comes from an earlier time) so if here he errs towards the cliche we'd have to give him a few points in because the well was perhaps running dry . . . other than when staring into the infinite darkness ahead.
Moving, but perhaps one for those who know Jennings rather than the casual passerby.