Graham Reid | | 1 min read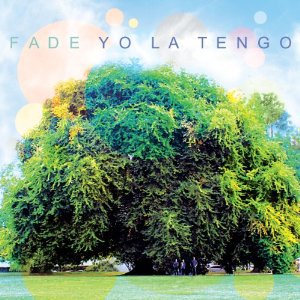 One of the smartest minds and mouths in rock David Lee Roth (of Van Halen) once remarked that the reason so many rock critics liked Elvis Costello was because so many rock critics looked like Elvis Costello.
In the Nineties the same might have been said of why so many record shop counter-jockeys liked Yo La Tengo, so many of them had that slightly nerdy but nice look, a line in gentle humour and a range of ironic t-shirts.
In 2002 the satirical magazine The Onion had a story with the headline "37 Record Clerks Feared Dead in Yo La Tengo Concert Distaster". The article said a roof had collapsed at the show and added "also believed to be among the missing are seven freelance rock critics, five vinyl junkies, two 'zine publishers, an art-school dropout, and a college-radio DJ".
Like all those music obsessives, Yo La Tengo from New Jersey had an encyclopedic knowledge of rock's illustrious history and sprinkled their catalogue with eclectic covers of songs by the Kinks, Daniel Johnston (before he was widely known), John Cale, Wire, the Beach Boys, Yoko Ono, Yes . . .
You wouldn't take them on in a rock'n'roll pub quiz, that's for sure.
Fade finds them at their most summershine-meets-shoegaze finest with the seven minute opener Ohm easing you into a sound which becomes broader, more urgent and elevating as it increases in density and guitarist Ira Kaplan throws odd shapes across the surging rhythm.
But here too are orchestrated ballads (Is That Enough), jittery but gentle lo-fi New Wave (Well You Better which might have fallen off a Lloyd Cole session), Clean-like distortion and melody (Paddle Forward), seductive robotic-rhythms with delightfully clean guitar lines (Stupid Things which comes off like a more romantic and folksy Sonic Youth) and songs of such beautiful simplicity they seem to have fallen from another era (the slightly Anglo-folk tinged I'll Be Around, the dreamy and horn-enhanced Cornelia and Jane sung by Georgia Hubley).
Lyrically these are songs of reassurance and confidence in, or desire for, emotionally stability and the production by John McEntire (Tortoise, Stereolab, Teenage Fanclub) enhances the discreet pop elements on songs like the brezzy The Point Of It.
This 45 minutes of economic focus closes with the angular percussion, whispery and string-coloured Before We Run which -- like that impressive opener -- pulls you in to a sound which seems to become more and more all-embracing as it swells on horns and strings.
Very very enticing album from a band which has always seemed to be coming-of-age and maturing like a fine wine. Drink deep.
Like the sound of this then check out this.