Graham Reid | | <1 min read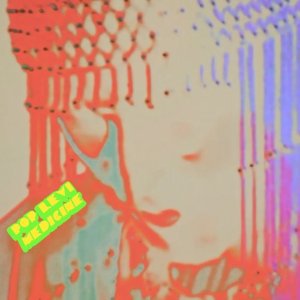 Back in 2007/2008 Mika and Pop Levi brought welcome injections of camp, glam-pop fun back into the foreground. Dressing up, being silly in videos, and delivering hand-clap and often ironically enjoyable songs were their hallmarks.
Not to be taken seriously.
Unfortunately after Levi's Never Never Love album the puff went out him. You'd hope this new one would put breeze back in the sails of his heavily borrowed styles.
It does and it doesn't, because here he takes his T.Rex influence of pixie-pop and inane lyrics ("she's an instigator, another double trouble traitor" on Police $ign) then turns the fuzzed-up metal-edge guitars to 11 for noisy pop which sounds aimed at a big room, and in places like it was recorded in one.
The nail-gun beats in the openers (the Prince-to-Bolan Strawberry Shake, Motorcycle 666 and Rock Solid, all obvious clue-giving titles) echo heavily and the cavernous sound is often too affected to create any emotional engagement.
It's one-time fun which on repeat play sounds calculated for short-term effect.
Better comes on the less frantic, romantic and deliberately infantile pop of Bye-Byes (anyone else remember Aussie MOR star Peter Blakeley?).
But mostly this is disappointing and desperate to please.
Like this kind of pop? Then you definitely need this album.