Graham Reid | | <1 min read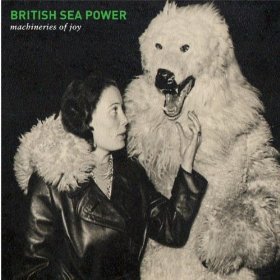 IN the current roll call of great bands out of Blighty, the fascinating and heroically named British Sea Power seem to have gone woefully overlooked.
Their intelligence and musical curiosity has manifested itself in two soundtracks, the one for Robert Flaherty's Man of Aran film from 1934 being a particular Elsewhere favourite for its sympathetic understanding of the stark images.
Their albums have always been interesting even when a little patchy (Valhalla Dancehall in 2011 didn't quite cut it, their earlier Do You Like Rock Music? the perfect place to start listening) but this one sees them on a particular high in songs which seduce with melodic balladry (the opener/title track is a breezily optimistic piece undercut by the fierce K Hole -- about ketamine -- which follows) and slightly askew melodies which morph into strange but beguiling places (Loving Animals getting just a little prog-headphones for you).
With strings and brass at their disposal and everyone contributing songs, BSP have a wide palette of sounds and styles from brooding and wind blown ballads to outright stompers (the tension-release of the poppy Monsters of Sunderland) and the chest-to-the-wind Radio Goddard.
There are also little electyro-widdly bits, acoustic guitars, sonic effects and such sprinkled throughout to give that added texture and atmosphere.
The much over-looked British Sea Power have really stepped up -- and sideways a little -- for this utterly winning album.
Check them out.
Hamilton from British Sea Power offers eccentric answers to the Famous Elsewhere Questionnaire here.