Graham Reid | | <1 min read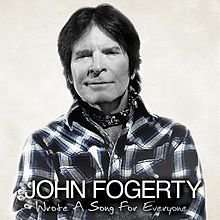 Although John Fogerty refused to play his Creedence Clearwater Revival songs for years after litigation between him and his former record company, it hardly mattered.
CCR songs were staples at classic hits radio, obligatory in any Vietnam movie (Fortunate Son, Run Through the Jungle, Bad Moon Rising) and a Creedence tape was in The Dude's car when it was stolen in The Big Lebowski.
CCR songs lived on without Fogerty.
But in the past decades he's played them again and here – with stellar guests including Keith Urban, Bob Seger and Alan Jackson – he flicks through his back pages, and adds new songs.
The Foo Fighters bring fury to Fortunate Son, the Zac Brown Band nudge Bad Moon Rising towards old school country, My Morning Jacket and Jackson bring country-framed tenderness to Long As I Can See the Light and Have You Ever Seen the Rain respectively, Kid Rock doesn't make much of Born on the Bayou, and Proud Mary with Jennifer Hudson, Allen Toussaint and the Rebirth Brass Band is a funky Nawlins burner.
For many the terrific originals render this self-tribute redundant, but the shifts of emphasis and great songs mean this is better than expected.
There is an archival interview at Elsewhere here about his return to playing his own songs, and this and this about the band Creedence Clearwater Revisited.