Graham Reid | | <1 min read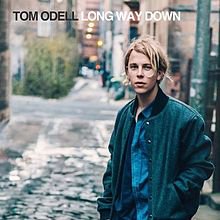 In Britain this critically favoured, chart-topping 22-year old pianist/singer has made no secret of his admiration for Elton John and that's hardly surprising: the opening piano passages in the sentimental Grow Old With Me are pure Elton, later he includes the line "I sat on the rooftop" (he watched birds, didn't kick off the moss) and occasionally gets within a whisper of Elton in the Tumbleweed Connection/Madman period.
But – remember Elton's songs were written by Bernie Taupin – Odell repeatedly plays the troubled romantic (every lyric is relentless first person and he's either wounded by love or expecting to be).
And he rarely goes for understatement.
He's from the quiet intro to sky-scaling chorus school. Regrettably those repeated stylistic signatures become wearisome over 13 songs (plus demos of two). So much trouble in his life for one so young?
Odell is undeniably talented and the high-points – the desperate Sirens and chorally-enhanced rocker Storms are unshakable, his considered cover of Randy Newman's I Think It's Gonna Rain Today and the tastefully spare closer Heal – show blinding talent.
But elsewhere you feel he's Elton aspiring to be Ziggy Coldplay.
That album title could be more telling than he thinks.
Like the sound of this? Then try this. It's more fun.