Graham Reid | | <1 min read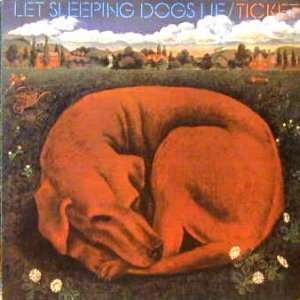 Recommended if for no other reason than people have been paying unfeasibly large sums for the original vinyl (doubtless rather scratched, the record came out in '72) . . .
But more seriously because this second album by Christchurch's Ticket -- recorded in Australia and following their excellent post-Hendrix debut Awake -- is a fine example of that intersection of hard rock and psychedelics.
Ticket were guitarist Eddie Hansen, drummer Rick Ball, bassist Paul Woolwright and singer Trevor Tombleson and, on the occasion of a recent reunion (and terrific live showing) I essayed some of their background and subsequent careers here.
Their story is also recounted in the liner notes here by Nick Bollinger, and the band members have their say about the 2010 Christchurch and Auckland reunions shows.
Transferred from original vinyl and in a replica sleeve, Let Sleeping Dogs Lie is a showcase for Hansen's blues-to-the-cosmos playing and just how tight the band were after a considerable amount of stage and studio time.
And after the two-minute crowd-pleasing throwaway We Love Rock and Roll at the end are three live recordings from their Kings Arms reunion show: Awake, JImi's Stone Free and Highway of Love.
And they effectively round out your Ticket ticket back to the early Seventies.
This reissue came from Famous Down Under Records through Southbound.