Graham Reid | | 1 min read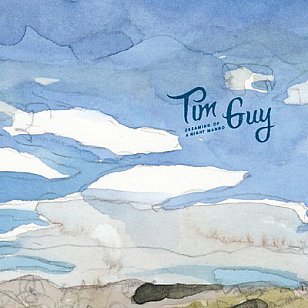 New Zealand singer-songwriter and producer Tim Guy has appeared at Elsewhere previously, notably for his delightfully thoughtful and airy 2007 album The Hummabyes, and when he answered the Famous Elsewhere Questionnaire in 2011 when he toured his Big World album.
Elsewhere lost touch with him in recent years but then was delighted when a vinyl-sized parcel turned up from him, and it seems he's back in Australia because this record comes with assistance from Arts Victoria.
As with his previous albums Guy -- who plays mostly on acoustic guitar -- isn't announcing "hope you like my new direction" with these 10 songs which appeal for their emotional directness, the clarity of their recording and the empathetic support from a select few on a number of his bedroom-folk songs which are imbued with a poetic soul.
There's a dreamy and ethereal folkadelic quality to Riding Dinosaurs which sounds like a series of interrelated miniatures, the gently haunting Battlefield, and a seductively minimal guitar figure drives and underpins Fire Goes Out.
The standouts are the ballad Little Brothers which works a similarly understated and repeated guitar part and Guy's voice has an almost hymnal quality, and the pastoral blues of River I Been where the singer wistfully ponders his place in this world and cosmos (with the gentlest of support from Dan Musil on slide).
But in other places he (and pals) bring a more earthy quality (the urgent Armour Weight with supple, almost martial percussion and pointed electric guitar). Domino is a multi-part piece which comes perilously close to being playable on radio.
And despite the seriousness on display he closes this album straight after with the wry pop throwaway of Everyone But Me's Got a Radio Song . . . although he needs to be warned this isn't really one either.
Tim Guy is a songwriter whose gifts don't shout about themselves but rather win you by stealth.
Recommended.
Tim Guy's Dreaming of a Night Mango is available on limited edition vinyl, CD or download from bandcamp here.