Graham Reid | | 2 min read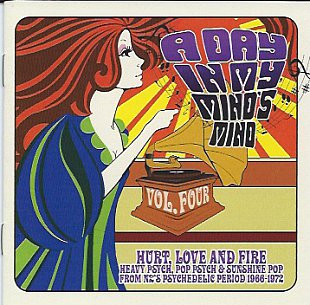 Although the recent initiative by recordedmusic.co.nz has brought some lost treasures (and some pretty ordinary music) back into public domain, this on-going compilation series pulls up some real obscurities.
The work of researcher and archivist Grant Gillanders, the series turns the spotlight on a period in New Zealand music when the barriers between genres (not to mention brain cells) were being eroded. This edition -- with an excellent booklet with background info about most of the artists and songs -- is subtitled "Hurt, Love and Fire: Heavy psych, pop psych and sunshine pop from NZ's psychedelic period 1966-1972" . . . and that proves a fair product description.
The Ray Woolf and the Avengers' track Little Things That Happen is firmly in that "heavy psych" category, so much so it was rejected as an unsuitable single at the time. But with the band pounding it out (these are Ray's Avengers, not the Wellington band of the same name) it is a punishing piece of pop-rock from '68. Back then Ray -- who became a popular MOR entertainer -- could persuasively sing "blow my mind".
The Brew were among the most tough-minded Kiwi bands at the time (two songs here of buzzy pop-rock and Bob Gillett's deliberately out-there jazz sax playing on Tea For Two) and Mee and the Others' Love is Not a Game (recorded in London) is menacing piece of droning, heavy psych-pop.
There are a number of covers here -- there's Gene Pierson with Simple Image on a heavily phased and astral version of the Four Tops' Reach Out which turns into some weird spoken passage and some guitar trippery -- but the standout is Tom Thumb's tight but pulversing brass-embellished treatment of Lennon's Hey Bulldog.
There's also an agitated folkadelic treatment of Hey Joe from Sebastian's Floral Array (a band name that could only come from the late Sixties) but after they broke up some went on to form Cellophane whose version of Arthur Brown's Fire here possesses some slow menace.
Rebirth's slow treatment of Gun's Race with the Devil however doesn't match the energy and tension of the original.
But is the originals which hold this together: Lew Pryme's dreamy Gracious Lady Alice Dee, say it aloud) written by Bryce Peterson of the acid-inspired House of Nimrod (whose phase-heavy Slightly Delic classic which he wrote here appears in solo version by Peterson with Moog) is a real period piece delight of pop pastoralism and pyschedelic imagery.
And Chris Malcolm -- who wrote for the Avengers (the Wellington ones) -- is the lost hero with his four songs, one of them giving its title to this collection.
And here, for the first time that I have heard, is the little known New Zealand Trading Company (formerly the Maori Hi Quins) who based themselves in the States and only released one album. They'd quickly dropped the whole showband route and -- with some line-up changes -- went down the hippie/Chicago/Edison Lighthouse route. Their cut here is the blissed-out flute-including pop of Oh What a Day, recorded when they had members from Cuba, the US and Britain in their ranks.
There are two fine, previously unreleased songs by Salvation (the covers Cold Rain and Snow, Like the Sun Like the Fire) who only ever released one single, both sides appearing on previous volumes.
And how much of a rarity is the Wayne Mason/Ali Richardson demo of the classic Nature?
Over 27 songs, the finer details of the half completed colour-by-numbers painting of New Zealand music in this era are increasingly being filled in by this worthy, inevitably uneven, and historically important series.