Graham Reid | | 3 min read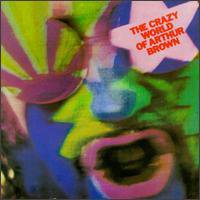 By the latter part of the Sixties there was a clear difference between how American and British "hippies" perceived "the psychedelic era". If it's true that no music movement comes without its own new set of clothes then the difference was visible on the streets.
In the US where ponchos, fringed-jackets, tie-dye t-shirts and buckskin boots were the style of the day the idea was to look like a stoned pioneer-cum-cowboy/girl; in Britain it involved dressing up in Edwardian clothes with large lapels, gypsy-frillly dresses and the idea was to be eccentric and intelligently different rather than stoned for days.
The band names, album titles and poster artists reflected the difference too: Blues Magoos, Country Joe and the Fish, Jefferson Airplane, Moby Grape and the Grateful Dead Vs Sgt Pepper's Lonely Hearts Club Band, Hapshash and His Coloured Coat, I Was Kaiser Bill's Batman, Granny Takes a Trip, The Pink Floyd . . .
The US also had the exciting garagerock dementia of 13th Floor Elevators, Britain had the delightfully esoteric folk of the Incredible String Band.
One of the earliest and oddest Brit-psych characters was Arthur Brown – his band name was The Crazy World of Arthur Brown – who performed in capes with a flaming crown, and had a hit with the madly demonic song Fire ("I'll take you to burn").
Brown was the bridge between British psychedelic music and prog-rock.
Their self-titled album of '68 – co-produced by Pete Townshend and Kit Lambert – drew from a long tradition of shouty rock (they cover Screamin' Jay Hawkins' I Put A Spell on You and James Brown's I've Got Money) as much as prog-rock (the opening prelude of organ-driven songs) and mildly satanic suggestions.
Sort of Frank Zappa/Alice Cooper-meets-Procol Harum at a witches sabbath.
Psychedelic? Certainly out of it, even now more than 40 years on.
Brown was an interesting character: for all his demonic imagery, face-paint and hellfire screaming he was a devout Christian and former philosophy student at Reading University, and the band's sole album included a five-part mini-rock opera about the temptation of sin.
That's the philosophy student, but through the organ of Vincent Crane and a strong rhythm section (drummer Drachen Theaker, bassist Sean Nicholas) and a tough brass section, Brown reached throat-searing and often dramatically soulful screeching heights.
Brown's original intention was a whole album about fire but producer Lambert (the Who's co-manager) scotched the idea and insisted they include I Put a Spell on You and I Got Money which had been popular live. Ironically, of course, the hit the album sprung was the dramatic Fire.
Briefly Brown and the band enjoyed their fame -- they appeared in the film The Committee -- and toured, but Brown was sued for stealing the tune of Fire, Crane and drummer Carl Palmer, who had replaced Theaker) quit during the first US tour (they formed Atomic Rooster).
Brown recorded another album with new players -- Strangelands -- but it went unreleased until the late Eighties. Which meant The Crazy World stood as his sole statement in that gap between psychedelic rock and prog.
At times Brown has the power of Scott Walker as re-imagined by Zappa (Come and Buy), at others he is a space-trip psychedelic poet (Spontaneous Apple Creation) or indulges in that very British eccentricity coupled with slinky jazz piano from Crane (the seven minute Child of My Kingdom).
The 2010 reissue includes an extra disc which included the pre-album '67 single Devil's Grip (and its quirky, satirical and eccentric b-side Give Him a Flower which includes a snatch of I Do Like To Be Beside the Seaside and sounds closer to the Small Faces' Itchycoo Park), and a version of Fire with a "psychedelic ending".
There are also mono mixes of the Fire suite; a one minute Brian Matthews interview, a four minute live Fire Poem and Fire, and Come and Buy from a BBC session; and Nightmare from The Committee.
Despite there being no second album, Brown toured with a new band Kingdom Come wkich was more rocky and even more theatrical: Brown staged his own crucifixion, and thereby influenced the likes of Alice Cooper, Marilyn Manson and any number of other shock-rock and theatre-rock acts. He also influenced Hawkwind (Brown appeared on the '73 album Captain Lockheed and the Starfighters by Hawkwind's Robert Calvert along with other Hawkwind members.)
Brown -- who burned his face and sometimes accidentally set himself on fire with his burning crown -- was one-of-a-kind and the album not only reached towards prog-rock but still managed to deliver an incendiary single in Fire which, even now, sounds urgent, slightly demented and utterly singular.
These Essential Elsewhere pages deliberately point to albums which you might not have thought of, or have even heard . . .
But they might just open a door into a new kind of music, or an artist you didn't know of.
Or someone you may have thought was just plain boring.
But here is the way into a new/interesting/different music . . .
Jump in.
The deep end won't be out of your depth . . .