Graham Reid | | 3 min read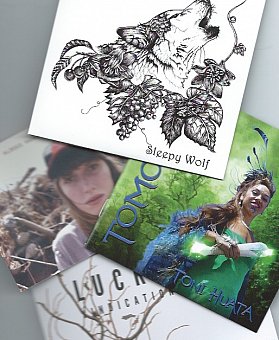 Facing down an avalanche of releases, requests for coverage, the occasional demand that we be interested in their new album (sometimes with that absurd comment "but don't write about it if you don't like it") and so on, Elsewhere will every now and again do a quick sweep like this.
Comments will be brief.
Toni Huata: Tomokia (Ode): Wellington singer-songwriter Huata (who won best Maori pop album at the 2013 Waiata Maori Music awards for her Hopukia album) here teams up with electronica producer/remixer Paddy Free (of Pitch Black and more recently Moana and the Tribe, whose forthcoming album Rima is exceptional) for some driving electrobeat te reo dance pop which also references waiata and haka. Leavening this are the heartfelt songs (three prompted by the death of her American birth-father, among them the ballad Legacy), evocative soundscapes with a message (E Whakaaha which refers to ancestors and sounds equally located in the urban and bush environments) and nods to dub reggae (Taihoa).
Sleepy Wolf: Sleepy Wolf (Monkey Records): Let's hope the duo of singer Karin Bettley and guitarist Sam Benge are of the forgiving nature (or at least very patient) because this album was apparently released late last year, although I'm sure I only saw a copy very recently. Anyway this Raglan-based duo comes with impeccable pedigree: He graduated in classical guitar, recorded and wrote with SJD and Joost Langaveld, moved to Australia playing the festival circuit with the band Metaphor; she has recorded with Epsilon Blue and been involved in the arts in Auckland and Hamilton. Together they deliver thoughtful, crafted and engaging indie-folk (with Sam Prebble on violin) and -- with embellishments by Benge on electric slide and keyboards -- these seven songs stretch and morph (the standout Deep Steady Hum is an entrancing six minutes of shifting moods). Glad to, at last, bring it to your attention.
Aldous Harding: Aldous Harding (Lyttelton/Southbound): This already acclaimed singer-songwriter (and daughter of Lorina) flew right past Elsewhere for a number of reasons: never saw a complete album just a burn which arrived when she was touring at a time when we were diverted by life, and by the time we got to it she had already been widely interviewed etc etc. In places here Harding comes from a folk tradition where a room is a "chamber", on the enthralling Beast she could be there beside the fire in some horse-brass and leather bar in Blighty and her quivering voice -- backed by fiddle -- suggests some quiet Elizabethan melodrama. There is a literary heart at work too: songs include Titus Groan, Titus Alone and Merriweather, do the google search . . . although when you do you might have a very different image of Titus than her songs suggest. This is uniformly fascinating but you also sense this isn't the best album she is going to make. But she's delivered more than enough to be enormously impressive and the next one -- given the landscape she's pegged out for herself -- should be extraordinary. If her voice gets placed more powerfully front'n'centre.
Luckless: Vindication Blues (Aeroplane): Excuses, excuses? An advance copy of this album arrived as I left the country (it was released last week) BUT we are in time to bring it to attention for the closing overs of her tour (dates below). By "vindication" however we've already been quick off the ground in our support of Luckless -- aka Ivy Rossiter -- because over a year ago we asked her to answer our Famous Elsewhere Questionnaire (see here). For this "vindication" album she delivers a terrific fuzzy pop song in the seemingly spontaneous When You Asked Her To Stay (located somewhere between early Flying Nun and early Lucinda Williams) and you should stand back for the furiously rocking Dry Eyes ("I'm so sick of apologising") where someone/everyone is put on notice. There's bitterness and understandable disillusion here (you'd be like that too after whisky and post-quake dislocation in Lyttelton) but she turns it into brittle art driven by angry, sometimes oppressive rock (Road Retreats is like a dead weight descending). She can still keep her folked-up nature close to the chest (Better Than Being Blue, Comfort Hotel) but here Luckless expands her musical and attitudinal palette (Paperskin is an acidic but equally hurt break-up delivered with appropriately scouring music, the closer Hard As I Try the antithesis in its sadness) and we're all the better for it.
An essential statement from an artist who hasn't so much grown as exploded, and this album is much recommended (although I could live without the prog-pomp of Cities of Salt here which makes a better poem than a song). Her future -- and your engagement -- starts here. Say hello-and-wave-goodbye to another great talent from this country? Hope so, she deserves "a global platform" (as they say).
Tour dates below this clip . . .
LUCKLESS VINDICATION BLUES TOUR
Friday July 18: San Francisco Bath House, Wellington (with Pales and Body Lyre)
Saturday July 19: Wine Cellar, Auckland with Grand Rapids and Tourettes (in a spoken word set)