Graham Reid | | <1 min read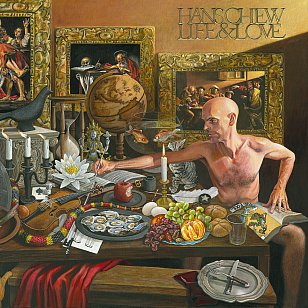 This is interesting, odd and unexpected.
On the inside cover Chew -- shaven head, bearded -- looks pretty hardcore . . . but he plays grand piano.
And he doesn't play the classical repertoire but rocks out in a Southern boogie style with a tough little band (which includes Dave Cavallo on guitars, including slide). The result is an enjoyable meltdown of blues, country, soul and rock which sometimes places him close to a young Leon Russell (and we're not saying that because this shares a title with an earlier Russell album).
Although at times when the band really fire off you can hear echoes of the Allmans and Elton John around the Tumbleweed Connection era.
Chew is from Tennessee, played ragtime piano with guitarist Jack Rose and his debut album Tennessee And Other Stories from 2010 scored him four stars in Rolling Stone and lots of plaudits. Uncut considered it in the top 25 releases of that year. The Guardian recently likened his voice to Kurt Cobain's (which I don't hear myself).
But he occupies a rollicking rock'n'country territory . . . except when he gets into folk ballad mode (Goodnight) over acoustic guitar or let's loose his boogie-boogie spirit (Junker's Blues).
A surprise. but a good one. Although you know this really needs to be enjoyed live . . . because it would be doubly more so then.
Check it out.