Graham Reid | | 1 min read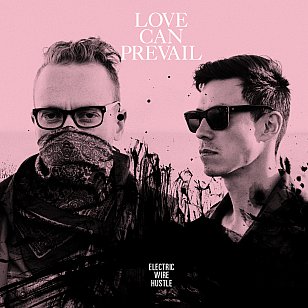 Last month this album -- EWH down now from a trio to Mara TK and David "Taay Ninh" Wright -- got a very nice notice in the New York Times, noting their "knotty, disorienting studio fabrications, surrounding hand-played R&B" are "descendants of [Marvin Gaye's] What's Going On".
True, inasmuch as problems with love and God become intertwined Marvin-style and the songs are deeply saturated in soul, albeit coloured by addictively widdly electronica.
They effortless bridge classic soul and contemporary beats, but there's something more about them, and that's their lyrics which seem utterly heartfelt and somehow very New Zealand.
Not many US or UK acts would sing, "In the light of Sunday morning I ran away from church with a love not for keeping . . . said goodbye to Grandma, she made it to the rest, through great wars and great depression but not the cigarettes . . . she said, 'Hold onto your life, don't let it get away . . . where did I go wrong?".
To me that song 5.Loveless sounds very Pasifika (I may be mishearing "made it to the rest") and comes in a sad delivery that is over subtle morphing beats and 3D production of electronica, vocals and guitar.
And the percussion which drives By and Bye is also grounded in a log drum tradition at some level as Maka addresses God directly: "We've had enough of by and bye, if you're out there God now would be a good time to say 'Hi' and pick me up . . ."
Much of the attention on the band right now has been on their associations (?uestlove of the Roots, Gilles Peterson etc) but it's easy to let that deflect from the music, which is sophisticated and extremely clever without being clever-clever. Look in the Sky is an object lesson in minimalism-maximalism.
The six-minute Light Goes a Long Way is ambitious but not an entirely successful cosmic journey, but done with enough confidence to suggest another direction once they've figured out the actual co-ordinates.
Expanded to a four-piece for some live shows but finely drilled down to just the duo for writing (and some soundsystem club shows), EWH have stepped way up on this collection which is almost genre-blind but astutely inclusive.
This is an adult album on every level which could appeal equally to fans of Marvin Gaye, the most sophisticated end of Simply Red and our own Grace as much as young beatmakers looking for a context broader than they are familiar with. Spiritual quests, yearning, urgency (as on The Spirit) and doubt rarely sounded so hip.
I suspect this is a better album than even they think they've made.
A real keeper.