Graham Reid | | 2 min read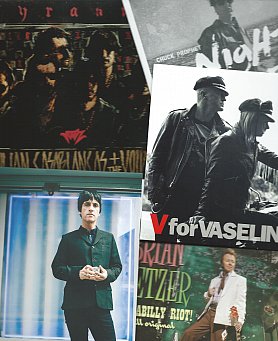 With so many CDs commanding and demanding attention Elsewhere will run this occasional column which scoops up international artists, in much the same way as our SHORT CUTS column picks up New Zealand artists.
Comments will be brief. This week people you know from elsewhere (and maybe Elsewhere)
Johnny Marr; Playland (Warners): Marr's first solo album The Messenger post-The Smiths was less than two years ago and here the template of up-tempo pop-rock and guitar-driven power-pop (Dynamo, The Trap) remains firmly in place, with just a little twist of alt-rock in places (the title track, This Tension). The very catchy Easy Money could just have easily slipped off a Dire Straits album before being given a decent duffing up and a kick of funkiness. Big-sky guitars propel things in the manner of The Edge in places (the desperate 25 Hours). Expectations would always be high for a Marr album but this won't match them. It is a very decent mainstream pop-rock album. But only rarely much more than that.
Julian Casablancas and the Voidz; Tyranny (Cult): Elsewhere was far from persuaded by the hype surrounding the Strokes when they appeared, and felt their subsequent albums did little to change that opinion. They were smart guys however, and here singer Casablancas (with his new band) sidesteps familiar guitar rock for some rhythmically off-kilter songs frequently underpinned and thrown out of shape by dirty synth sounds. Some of it is malevolently distorted (MAD), in other places there are decent songs buried (Human Sadness) and mostly it is -- as were the Strokes -- the sum of influences, just different ones this time round. The indulgent interpolations of sampled voices, lengthy sonic intros and such are increasingly distracting. A courageous move into different territory, but most won't feel inclined to strap on the walking boots to join them on the trek.
Brian Setzer; Rockabilly Riot! All Original (SurfDog/Southbound): Former and still-sometime Stray Cats singer-guitarist Setzer has been true to his quiff and for years has delivered partyime, big noise rockabilly riot . . . which doubtless must be a show to see, especially when he's out with that big horn section. This time though it is a tight four-piece with piano and the flat-tack result is like a supersession with Duane Eddy, Jerry Lee Lewis, Elvis Presley, Link Wray etc. Rockabilly needs no re-invention so Setzer and his "Riot Squad" attempt no such thing on originals with titles like Let's Shake, Rockabilly Blues, Vinyl Records, Calamity Jane, Stiletto Heels, I Should'a Had a V-8, Blue Lights Big City . . . If you can't imagine what those sound like you clearly need schooling in rockabilly. Start right here for a good time, or for samples of the original Fifties sound here.
Chuck Prophet; Night Surfer (YepRoc/Southbound): His original band Green on Red are a long time gone but here -- the 13th album under his own name -- Prophet is still imbued with the spirit of rock'n'roll which has something to say about the human condition and the world we live in. And as Chuck sees it, it's bleak out there. But he's also a soulful man in the manner of the late Willy DeVille (the string-coloured Wish Me Luck) and celebrates small moments (the reference to a Talking Heads song on Ford Econoline with Peter Buck on jangle guitar). He writes great pop (the Fifties-referencing Lonely Desolation) and a Costello-like power pop ballad (Tell Me Anything). The virtues of rock music like this is timelessness and in a way this album could have been made 10 or 20 years ago. But it also speaks to the Now. Recommended.
The Vaselines; V for Vaselines (Rosary/Southbound): Might as well get the hoary reference out of the way. Yep, Kurt Cobain called Scotland's short-lived Vaselines (1987-'89) his "favourite songwriters in the whole world" and Nirvana covered some of their songs. Needless to say after that they re-formed (in 2008) and there have been reissues and new albums since, and pretty good they are too . . . in a buzzy pop way. The songwriting rarely deviates from the obvious so perhaps we might consider Eugene Kelly and Frances McVee the Chinn-Chapman of post-punk pop. And that's a bit of a compliment. A bit of one.
For previous IN BRIEF columns go here.