Graham Reid | | 1 min read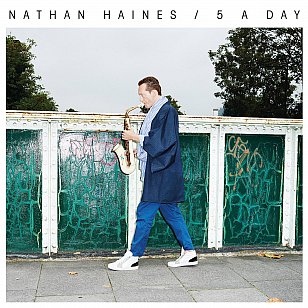 In a recent in-depth interview with Elsewhere, Nathan Haines spoke about how hard it was for him and his longtime producer Mike Patto to make this new album.
In comments we didn't publish there he said, "we were running up against deadlines and it took a massive toll on our lives".
"I had to stop working because there were a lot of man hours in there. You read about your heroes' records – like Steely Dan's Gaucho where they imploded at the end – and we didn't want that to happen.
"We worked to deadline, sent the mixes away and I went on holiday. But the mixes were not right so then we had to go back and mix it again and [my wife] Jaimie was very pregnant at that time.
"Because it was his home studio, Mike's partner and baby had to stay up in London.
"We only just finished the record for CD and the vinyl copy has a different master and slightly different mix.
"Fortunately the vinyl had a long lead time -- a 12 week waiting list in the UK, it's so popular and that was through Warners who press in Germany.
"So that was good news."
Now the album is out on both CD and vinyl, and it is a very different outing than his previous two.
After the old school jazz albums – the acoustic The Poet's Embrace and Vermillion Skies, recorded live in the studio and direct to tape – multi-instrumentalist Haines here reverts to the amalgam of sax'n'flute jazz, hip-hop and slippery dance which made his name 20 years ago with the Squire For Hire album.
This is a crafted, mature sound which sometimes refers as much to Chic and Sly Stone (the latter overtly on Count On Me) as it does the influence of beats from Marc Mac, or the 80s sound of Ernie McKone's funky bass (notably on Got Me Thinking and Mastermind) and the similarly referenced keyboards from Patto.
And with soulful vocals from Kevin Mark Trail, Vanessa Freeman, Jaimie Webster Haines, Patto and Tama Waipara deployed carefully, these eight songs across 45 minutes slide effortlessly between genres, much as Squire For Hire did back in its day.
But on material like the obliquely Oriental and delightfully ambient-soul Hidden Fortress (Haines on Indian flute, Patto on dulcimer) they also craft dance music for those who don't like getting off the couch. And, democratically, Haines slips in with sax, flute and trumpet so seamlessly as to never dominate.
Very smart and sassy album.
Can't wait for the remixes (P-Money is on the case), there's a wealth of detail in these layered sounds to work with.