Graham Reid | | 1 min read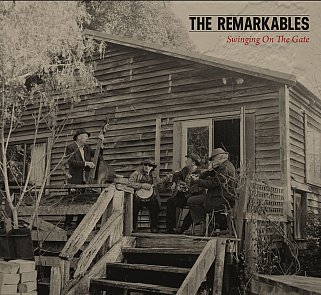 When Tim Julian of the record company Fragile Colours got in touch about this album, told me who was on it and asked if Elsewhere might be interested I replied immedfiately.
I said, "You had me at 'Robbie Laven'."
People of A Certain Age fondly remember the gifted multi-instrumentalist Laven for his band Red Hot Peppers in the Seventies, and in fact we have previously posted a track from their sole album Toujours Yours in our From the Vaults pages (here).
And more recently we reviewed the album by the band Bonjour Swing in which he and longtime partner Marion Arts play. As the band name suggests they err to a sophisticated Django/Grappelli style of swinging jazz-folk.
This breezy, acoustic outing -- which is high on pleasure and exists in the space between country-swing, jazz (Fats Waller's Honeysuckle Rose is here) and folk-blues -- puts Laven (on fiddle, guitar, washboard, mandolin and saw) together with equally seasoned players Neil Finlay (guitar/vocals), bassist/singer Garry Trotman and banjo player Bryan Christianson (whose adaptation of Bach's familiar Minuet into bluegrass swing is a real grin-inducing highpoint).
The cover photo -- taken at the woolshed they rehearsed in -- perfectly captures the mood here as they offer a downhome, backporch treatment of You Always Hurt the One You Love (singing saw milking the tears), their bluegrass-tinged arrangement of the standard Frankie and Johnny, the harmonica blues of the hoary Stealin' (written in '28 according to the excellent gatefold package) and their revision of Irving Berlin's Marie ('29).
The originals by Christianson and Trotman slip in seamlessly: Christianson's title track and Wait And See are vigorous Flatt-Scruggs banjo-pickin', fiddle'n'geetar pieces; and Trotman touches the spirit of New Orleans and the Hot Club equally for Crazy For Your Love ("there's no one sweller, and I'm your feller").
There's as much wit here as virtuoso playing (Animal Liberation Rag by Trotman) but the lasting impression after these 15 songs is what a relaxed, enjoyable time you've had.
No barriers hurdled, envelopes pushed or parameters breached, just damn fine stuff from people who know what they are doing . . . and how to do it very well indeed.
You can buy this album direct from the Remarkables' website here.