Graham Reid | | 1 min read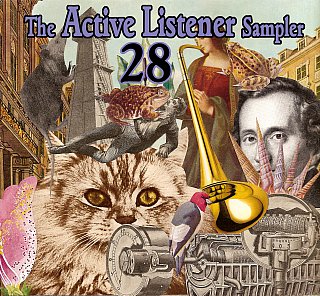 The generous Nathan Ford out of Wellington continues his unique vision of psychedelic-cum-tripfolk compilations with this wee gem, one of the most persuasive in his already vast catalogue.
A labour of love, The Active Listener (see here, and an interview with Nathan here), really is quite a find for those of us who have limited time but know there is a galaxy of such music out there we can never get to.
Ford is your helpful gate-keeper who lets you through the roped-off area and invites you in to a world of wonderful trippery which, especially on this album, sounds so good under summer skies.
Although the dark minimalist Eighties-like electro-beat of Adam Leonard here on Elbow of Termites is about getting under your skin. Literally.
It's spooky. Like Syd Barrett survived and got into the operating theatre.
These Active Listener samplers however are about the overview and Elsewhere is delighted to hear again from Dodson and Fogg (aka the wonderfully inventive one-man band Chris Wade, see here) with his post-Donovan alt-folk; the ineffable mysteriousness of Kitchen Cynic (whose album The Orra Loon we thoroughly recommend) and the stalking beat and sitar of Al Lover on the wittily-entitled Brian Jonestown Masochist.
The Bingers seem like a viscerally impresive implosion of surf-rock, garageband punk and Country Joe and the Fish; and Mondo Drag take few prisoners on their five-minute guitar-rock of Crystal Visions Open Eyes which sounds beamed in from around the time of the Blues Magoos before psyche lost touch with pop-economy.
The Moon Band bring poised Anglofolk to the collection . . . and -- on the strength of the swirling space-rock of Sunfire Drug Haus -- the heart-of-the-sun/shoegaze/Sky Cries Mary band Powder Blue out of Saskatoon in Saskatchewan could just be my New Favourite Band.
Not even going to start trying to explain Space Yacob and the Giant Yeti with Korong, or the closing 16 minute-plus Petalos De Flujo Solar by Virgen Sideral. You can discover these odd delights on your ownsome.
So from strange folk to keening guitar folk-pop (The See See) and somewhere beyond the rings of Jupiter, this is one helluva compilation.
Mr Nathan Ford has smart ears, we should support what he's doing for us.
You can read Nathan Ford's always interesting psych-blog here and find the music he makes available at bandcamp here. This album is available there at bandcamp as a name-your-price mp3. We'd like to think you'd name high.