Graham Reid | | <1 min read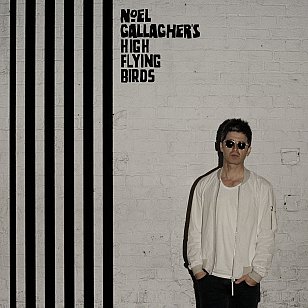 Neither Gallagher brothers' previous albums – Liam's enjoyable Oasis-like swagger on Different Gear Still Speeding and BE with Beady Eye, Noel's more po-faced self-titled outing with High Flying Birds – scaled particular heights.
But here the more ambitious one rises to the challenge.
Despite opening with "there's something in the way she moves me . . . ", he mostly steps past his Beatles obsession and heroes like Paul Weller for something distinctly personal and, happily, more musically tripped out (perhaps a consequence of his abandoned venture with Amorphous Androgynous).
The title alludes to him looking in the mirror and perhaps at his scrapbook of madness, and in the Bowie-like, string-enhanced big ballad Girl with the X-Ray Eyes he pays tribute to the woman who rescued him.
More amusingly he gets away a gritty widescreen glam-rock stomp on Lock All the Doors, nods to Led Zeppelin and the Madchester baggy scene in While the Song Remains the Same, The Dying of the Light is a dreamy ballad and The Right Stuff with squirreling sax is just plain groove-riding psyche-pop.
Odd that as he's found his feet and voice, we hear of a possible reconciliation with Liam.
Here he proves who needs who the most.
For more on the Gallagher brothers and Oasis, including interviews, start here.