Graham Reid | | <1 min read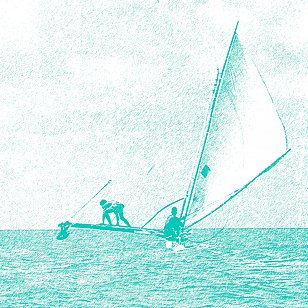 The more you listen to breadth and depth of expat British guitarist Mike Cooper's work, the more your respect his innovation . . . all the while acknowledging he is perhaps the least known of all the least known innovative players.
He has crossed the Elsewhere path last year with some reissues (see here and here), but even as recently as then we conceded he had been off our radar.
And this low-key item -- 11 spacious and hardly-there instrumentals with bird calls in some places -- isn't perhaps the one to make you hail him as a genius.
But Fratello Mare -- its title a reference to a fairly obscure Italian film of the Seventies -- finds him continuing explorations with his prepared and looped National guitar from the Thirties to create evocative soundscape which allude to his recent travels in the Pacific, the Caribbean and South East Asia.
There is certainly a tropical ambience about much of this.
But at other times it does become vaguely disturbing (the uneasy title track with bird calls and a looped undercurrent, the fragmented Notes from My Pacific Log).
And there are the found sounds and field recordings woven into some parts.
For those who understand the notion of prepared guitar improv, this may seem a little tame and erring more towards imagined soundtracks for weird art installations. Others will just shake their heads in wonder.
If you are in the latter camp check out this reissues mentioned above, they are very different from this.
For more on this album go here.