Graham Reid | | <1 min read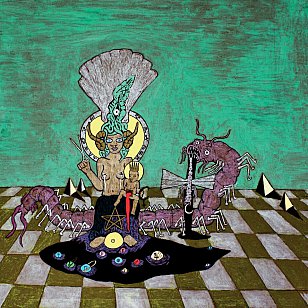 This charmingly named Auckland outfit got a few points in for their previous album Eeling which was rather demanding but showed some real flickers on 21st century post-punk declamatory experimentalism.
Those reference haven't changed much but this albums feels a whole lot more focused and in places even considered. Pollen Moon and Darwinning here are compellingly bleak and raw and where once their influences might seem to have been British on these pieces in particular their sight lines might be closer to home (the Skeptics).
They remain pleasingly uncompromising -- the shatter-glass and aggressively descending guitar parts on the relentless The Twelfth House which closes with what sounds like a mournful and distant trumpet -- but also plunge into some seriously elemental pop (A Fraud Abroad) which they still give their distinctively grinding approach.
They are perilously close to widescreen electropop on the ambitious Rainbow Islands, albeit electropop beamed in from some blighted post Teardrops/Echo industrial park.
Their disturbingly off-kilter sound -- think a screaming domestic argument held in a factory manufacturing steel and wire on Scrying -- is something to behear and although they will be a challenge to many (although Pere Ubu/Pop Group aficionados should feel at home) they are a band whose recorded work so far is often so powerful you'd be a fool to dismiss them on the basis of the name alone.
This album comes on limited edition vinyl in a gatefold sleeve with an art booklet. I'm in for that.