Graham Reid | | 3 min read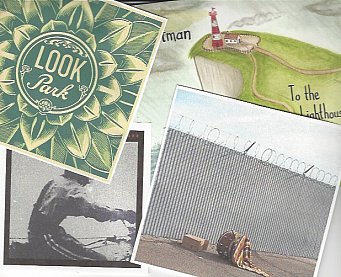 With so many CDs commanding and demanding attention Elsewhere will run this occasional column which scoops up releases by international artists, in much the same way as our SHORT CUTS column picks up New Zealand artists.
Comments will be brief.
The Felice Brothers: Life in the Dark (YepRoc/Southbound)
Once again channeling - but with even more refinement -- the surrealist/Beat poet spirit of Dylan's word-spinning and collision of images in '65 and '66, Felice Brothers writer Ian Felice here reaches his apotheosis in songs which skewer with lines like, "I bin lost'n'double-crossed, chased down, stabbed in the bloody frost, I'm a lost child on your evening news, your queen in a castle of sugar cubes . . . America I've seen your guillotine, a fat boy adrift in a limousine through the land of the lost Cherokee . . .".
There is however a wistful fatigue here too: The emotionally wrung-out title track, a ballad over Basement Tapes-like piano and arrangement, coils back to the line "I'd love to see you in that old house where we were born"
These songs often speak of the broken spirit of America but equally evoke many periods of Dylan, not the least Triumph '73 in which the singer is on that motorbike and getting away from whatever he needs to flee from, and through another America.
So if you want to revisit that wild mercury sound and spirit of the artist between Highway 61 Revisited and Blonde on Blonde (albeit with more of fiddle'n'country flavour) with a detour into the Woodstock retreat, then here's a band which process it and deliver it familiar but fresh . . . and on the hoe-down of Sally in a foot-stompin' barn-shaking way. Stick around for the uncredited final track Chain too.
Diamond Belle by the Felice Brothers
Plantman: To the Lighthouse (Arlen)
This third album by Matthew Randall (aka Plantman, with pals helping) confirms what a lottery contemporary music is. He's British and of course the UK music press hear in his downbeat folk echoes of everyone from Bert Jansch to Durutti Column and Lloyd Cole.
(Stepping outside British references some UK critics cite Velvet Underground in regard to this outing. C'mon, really? Just because he was in the shoegaze band Beatglider doesn't mean Lou/Cale are here beyond their rare acoustic moments.)
In the lottery of life Plantman seems to have been chosen for attention when he is among a wide field of not dissimilar artists (Neil Halstead and Chris Wade who have as much breadth, among others, come to mind).
Plantman – who is very good, but no more outstanding than many others in the acoustic folk-pop world – has been lucky enough to have the finger touch him on the head for these 15 short songs in just 44 minutes.
Nice music, crafted even. Appeaing also but . . . Lucky man.
Folk Eye Turning by Plantman
Look Park: Look Park (YepRoc/Southbound)
Since New York's Fountains of Wayne split three years ago various members have been busy but Look Park is the nom-de-disque for the band's British-born singer Chris Collingwood and billed as his debut album. Recorded with producer Mitchell Froom who has astute ears for polished but slightly edgy pop, these songs conform to classic if word-driven structures and reach wide musically with keyboards and Mellotron alongside the widescreen guitars, bass and drums.
Collingwood writes effortlessly across genres – the melodic folk-rock balladry of Breezy, the introspective slightlydelic-Beatlesque Get On Home, the chiming power pop of Stars of New York – which makes for pleasing diversity. Although for those coming new to him – and here without FoW pal Adam Schlesinger adding extra texture -- Collingwood's vocal style (which can err to the monochromatic) may pall.
Aeroplane by Look Park
Stephen Steinbrink: Anagrams (Melodic)
In his excellent, insightful and genre-encompassing book Electric Shock; From the Gramophone to the iPhone, right at the end of his 125 year survey of pop music the British writer Peter Doggett posits this idea: Imagine you'd been imprisoned in cultural isolation since 1995 and were awoken and taken to a major rock festival. It's in the nature of how so many pop music tropes have been reworked into contemporary music that you'd probably be on fairly familiar ground despite the 20 year absence.
You might add a couple more decades to that absence for this pleasant, crafted, referential album by an American singer-songwriter who is clearly a child of his generation (Beck and Elliot Smith's influences here) but has reference points further back in bands like the Mindbenders and Tremelos' pop as much as the Beatles and Badfinger, in the Raspberries as much as REM.
He's a little bit power-poplite of the American kind (the more weightless end of the Posies) as much as he is at home in a record collection which has Jose Gonzalez near the front.
He sings "Everybody wants to be the first . . . I'm hiding in van, this isn't what I planned" on What Identity? when he peers into the mirror and his own position in pop music culture. Even at 1.49 -- and in the absence of Steinbrinkmania -- it's a bit self-indulgent.
Once he puts the references, self-doubt and lightness behind him and find that elusive identity, Steinbrink – who is now however seven albums in – might be worth serious attention. But even now you can't help feel you are dot-joining and have awoken into quite a few decades of the familiar . . . albeit delivered by someone who feels his own angst with a melodic poeticism.
Pleasant and comfortably familiar in a gentle, if sensitively self-questioning, folk-pop way.
Maybe if you've just got out of that cultural prison and are in search of what you already know then . . .
I'm Turning Inside Out by Stephen Steinbrink