Graham Reid | | 3 min read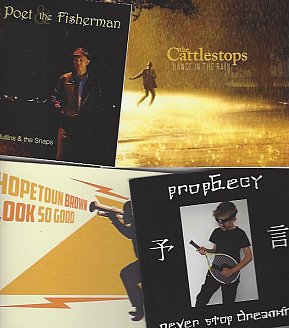 Facing down an avalanche of releases, requests for coverage, the occasional demand that we be interested in their new album (sometimes with that absurd comment "but don't write about it if you don't like it") and so on, Elsewhere will every now and again do a quick sweep like this, in the same way it does IN BRIEF about international releases.
Comments will be brief.
Hopetoun Brown: Look So Good (Southbound)
Gee, second album time already? It seems like just yesterday the duo of trombonist/trumpeter/singer Tim Stewart and saxophonist/pianist/singer Nick Atkinson delivered their impressive debut Burning Fuse. (It was 11 months ago).
They could hardly repeat the successful formula of that – a mix up of funk, punchy soul and much more – so here the former Supergroovers bring in some classy guests like Tami Neilson on Hate I Don't Love You (co-written with Stewart) and a greasy version of St James Infirmary Blues with Finn Scholes on trumpet and vibes, and Marlon Williams (who seems a little wasted on the faux-ska/reggae of Long Time Ago). Stewart impresses as an increasingly accomplished blue-eyed soul singer (the taut'n'funky Own It, the slow and engrossing Let It Show with Williams on backing vocals). The standout is the seemingly simple but cleverly arranged Not Enough Love where again Stewart takes centre-stage, although the witty Future Never Came and irrepressibly catchy Look So Good are bound to be a handclap pleasers live.
A good one. Again.
* Hopetoun Brown launch this album tonight in Auckland, then tour. Dates and details below
Look So Good, by Hopetoun Brown
Ross Mullins and the Snaps: The Poet and the Fisherman (Red Shaver)
Although not blessed with the strongest voice, it is exactly the right vehicle for the most compelling and saddest song on this 12-song collection, singer-songwriter Ross Mullins' first album of new material in 17 years. The reflective The Visit finds the singer going to the grave of a loved one, and Mullins' treatment avoids sentimentality as he drives to the cemetery and the world just goes about its business.
This more muted, sometimes even melancholy tone also brings to life the snapshot of two teenage lovers whom the older, world-battered singer wants to tell "savour every second on this humble bench, this may be as good as it will ever be". But he knows they wouldn't listen to anything he says. That idea of being an outsider/observer looking at lost lovers or lost opportunities comes through on Happy Ending ("You wish you could meet the man who stole your happy ending") and the economic short story of the title track.
Elsewhere pianist Mullins adopts his more jaunty style in observations about the tired older person looking back from the mirror (The Age of No Excuses), Kiwi blokes distant from their partners (She Took Me to The Wreckers) or quitting this place (The Lucky Country). At these times he edges close to the jazz-cum-lyrics of an antipodean Mose Allison. With a superb band which includes guitarist Nigel Gavin and saxophonists Jim Langabeer and Markus Fritsch, the songs are given terrific settings which have touches of jazz in their arrangements, and the band swing out on the instrumental closer Little Ray of Sunshine.
Mullins has always written about this place and its people, but here the strongest material sounds intensely personal.
Waterfront Lovers, by Ross Mullins and the Snaps
The Cattlestops: Dance in the Rain (cattlestops.com)
More dad rock (possibly even granddad) because these senior players have accumulated decades of playing and they've been the Cattlestops from the Kapiti Coast since 2005. Alongside longtime members writer-bassist-singer James Cameron and guitarist-writer-singer Andrew London are now keyboard player Wayne (Fourmyula) Mason, steel guitarist Ross McDermott and drummer Lance Phillips (and some guests). With a comfortable country flavour (Cameron sometimes sounds like Billy Joel raised rurally), economic songwriting which offer reflections on love and the passage of life viewed from the far end, this has reference points in Amazing Rhythm Aces, alt.country and smart pop ballads. It flows easy on the ear and has something to say about families separated by distance, loss and enjoying the moment. They bring in some swamp-rock on the groove-riding West Coast Sunsets, but -- like Mullins – locate themselves geographically and emotionally in this country. And the title track celebrates good times here and now rather than waiting for them to come.
Martinborough Morning, by the Cattlestops
Prophecy: NeverStop Dreaming (doublebass.co.nz)
And more. Last year bassist with this band Phil Walsh wrote about the group finally getting round to recording their debut single four decades after they formed, and another piece about the Waikato music scene in the Seventies and recording his own album (with some members of Prophecy).
Walsh wrote 10 of these (three others are favourite covers including Slade's Everyday given piano ballad treatment) and they cover not being unhappy when a lover leaves on Best Thing ("I can drive without directions . . . Kid Rock on the radio"), Danny and Janey with dreams never realised (the somewhat plodding Never Stop Dreaming), heading back to the country from the city rat-race (Going Home), Friday on your mind (Seduction on the Line), various aspects of love and need, and the Show Goes On about touring life.
It's uneven and in need of editing (You and Dr Hook's Little Bit More sung thinly by Kim Earl pull this back a few notches, Island Nights probably plays better live than it does here) but it's better when it straps on its pub-rock gear (Cause I Love You). And with the Slade song at the end they have their close-dancing, lighter-waving, singalong as an in-built encore.
One for family and close friends.
Best Thing, by Prophecy
HOPETOUN BROWN NATIONAL TOUR DATES