Graham Reid | | 4 min read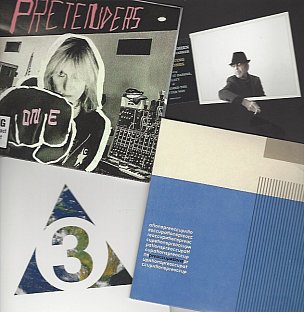 With so many CDs commanding and demanding attention Elsewhere will run this occasional column which scoops up releases by international artists, in much the same way as our SHORT CUTS column picks up New Zealand artists.
Comments will be brief.
Leonard Cohen: You Want It Darker (Sony)
Much has been made about the lack of a question mark on this album title. And rightly so. Had there been one it might have implied that Leonard Cohen – now 82 and in earlier years referred to as Laughing Len for his bleak songs – could take you a place where he is confronting his mortality.
The lack of a question mark however suggests that he might think the listener expects him to do exactly that. But that isn't his way, for decades now Cohen has brought flickers of dry humour to his work.
That we spend time just weighing up his album title tells us how seriously we take him.
And he is certainly taking this album seriously too: the title track – a spoken word more than sung poem with a simple rhyme scheme – alludes to guilt, murder, impending death, the account which must be made before the Maker. That the musical setting suggests hymn and synagogue prayers only plunges us deeper into the religious, existential, temporal and spiritual worlds this album explores.
Faith and/or the lack of it runs through the stately piano folk-ballad Treaty ("I'm sorry for the ghost I made you be, only one of us was real – and that was me"); his impending departure (Leaving the Table, Traveling Light); the imagery pulls in flickering flames, prisoners, Jesus and the New Testament, angels and the Devil . . . And he says he needs no more lovers now ("the wretched beast is tame").
Yet despite the dark and often foreboding nature of these lyrics and Cohen's low range delivery, there is an eloquent sense of peace here too as the songs come across with simple melodies, toned-down country-style guitar passages, strings, understated arrangements and sympathetic production by his son Adam.
In the lovely Leaving the Table he speak-sings "I don't need a reason for what I became, I've got these excuse, they're tired and lame".
A collection of beautiful resignation and acceptance with a palpable sense of love for this world, but a weariness now too.
Steer Your Way, by Leonard Cohen
Pretenders: Alone (Liberation)
If Cohen is looking down the dark road, here Chrissie Hynde – age 65 – here sounds like a woman not just in control of her world but someone confronting it with the guts, humour, bitter wit and rage of someone a few decades younger. In fact the title track opener here ("Nobody tells me I can't . . . No one to say, 'You're doing it wrong' ") sounds closer to classic Iggy Pop. And Roadie Man which follows has the same disturbing guitar undercurrents of early Yoko Ono whom she also unintentionally seems to channel in the moaning.
Produced by the Black Keys' Dan Auerbach, this is a brittle, often assertive, swaggering, sexual, sometimes bluesy, very considered and always interesting collection of songs which suggest Hynde -- who is the Pretenders these days -- is still happiest out there on the road and rocking. Although death is a pervasive thread and as many of these songs are as muted in delivery as others are ballsy. There's bitter-sweet love (or at least relationships) embedded here, and the penultimate song Death is Not Enough (by British songwriter Marek Rymaszewski) is a classic Hynde ballad of elevating sentiment as she stands over the body of a dead friend/lover now at peace.
And who would have thought that more than 35 years after the Pretenders debut that Hynde would not only be still with us, but be this compelling. Or that 78-year old Duane Eddy would bring his archetypal guitar sound to proceedings on the steamy but resigned Never Be Together?
There's no obvious "radio hit" here from a writer who once carved them put effortlessly, but since that early purple patch Hynde has rarely produced an album as consistent as this . . . which make Alone somewhat glorious stuff.
Death is Not Enough, by the Pretenders
Preoccupations; Preoccupations (Jagjaguwar)
Last year this band – then known as Viet Cong – popped up as one of our Reader' Choices as the best of 2015. The writer did ask, "Do I want a whole album of this? Maybe". Well, under another moniker here is a whole album of Bauhaus-influenced of Brit-Goth of the Eighties from these gloomy Canadians who do, it needs to be conceded, can carve out a fairy decent and icy songs from a wall of widescreen synths and massive, glacial guitars which wrap around singer Matt Flegel's (sometimes) emotionally detached and declamatory vocals. Songs like the angry Zodiac and driving Degraded bring to mind the first Psychedelic Furs album arc-welded onto light heavyweight Killing Joke. They also offer a couple of miniatures (the airy one minute Sense, the throaty-Bowie/Low-era Forbidden not much longer) beside the 11 minute-plus soundscape-electrostomper Memory.
If those references mean anything to you (in a good way) then this will doubtless appeal for its updating of the formerly familiar, and if they mean nothing to you then line up for a sound and style that works very well at punishingly high volume.
Need a whole album though? Well, it's only nine songs in 40 minutes so the answer is a cautious, "Yes".
Zodiac, by Preoccupations
The Brian Jonestown Massacre; Third World Pyramid (A/Southbound)
And still they come. The productive Anton Newcombe now has his own studio in Berlin so expect even more from him. The world music influences which were all over some previous outings (like Aufheben) are here largely dispensed with in favour of further cinematic guitar jangle, and economic psyche-rock (nine songs, 40 minutes). The relentless pulse of the Morricone-like instrumental Oh Brother neatly leads into the more urgent title track which conjures up Joy Division-goes-space rock.
The BJM are always worth hearing, but if you've been doing that then you might conclude that this is more of the same . . . and in some places less so.
Don't Get Lost, by the Brian Jonestown Massacre