Graham Reid | | 1 min read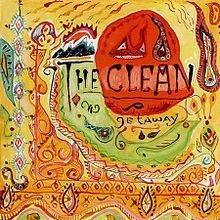 Much as the Clean should be respected and honoured for their first flourish of innovative, sometimes brilliantly reductive but enthrallingly widescreen (in your head) pop-rock during the early days of Flying Nun in the late Seventies/early Eighties, it was their second coming which presented the more rewarding, demanding, exciting and fully realised music on albums like Vehicle ('90) and Modern Rock ('94).
And here is a chance to (re)discover their third coming with this reissue of 2001's Getaway which comes with a whole other disc, the rare 2003 live album Syd's Pink Wiring System and the Slush Fund EP (recorded in '99, released two years later packed together for another 74 minutes (20 minutes more than Getaway), neither of which Elsewhere has heard before.
On Getaway there are the exotic Jala and the miniature of Alpine Madness (psyche-world ambience), David Kilgour's post-VU acoustic-framed pop (Golden Crown, Silence or Something Else) and many more smaller scale pleasures.
Getaway was never an album which reached out and grabbed you but let its nuance (the six minute-plus Aho with wah-wah towards the end) pull you in. You have to love an album which has an almost seven minute track at the end entitled Reprise 1#, 2*, 3* & 4* . . . and has a couple Yo La Tengo guests because they just happened to be around.
On the extra disc Slush Fund – with piano for Point That Thing – comes off as a casually scribbled postcard to loyalists, but then suddenly it picks up with a genius version of Fish and a guitar-stutter through a nine minute Quickstep. Extraordinary.
Then Fish comes back in a downbeat but elevating guitar edition to kick off the Syd tracks . . . and it really is "hold on tight to the rail".
Across this disc their songs are reinvented and so . . .
Recommended (and now on double disc and a two LP version) and out on December 2